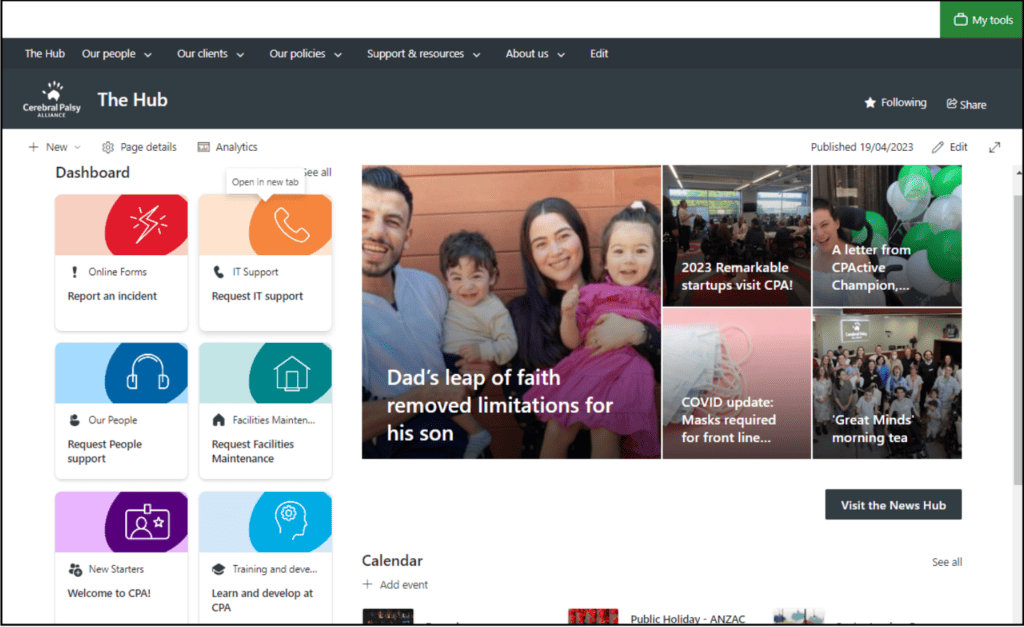 * Screenshot remains the copyright of the entrant, and may not be reproduced without written permission.
Cerebral Palsy Alliance: Creating a robust intranet from scratch
Australian charity Cerebral Palsy Alliance has created a new intranet based on SharePoint Online and Microsoft Viva Connections. The team has executed an extensive project methodology with a detailed discovery period, a thorough content audit, robust governance, a steering committee and working group, engagement with devolved content owners and more.
Notable features of the new intranet include a Viva Connections dashboard supporting common tasks, a new policy document library, an analytics dashboard based on Power BI and the recreation of a popular newsletter as an area of the intranet. The intranet has already achieved strong levels of adoption with 90%of employees using it.
Frontline staff can now access the intranet for the first time, with some of them accessing it via the mobile Teams app.
Why this won a Silver award
There was a massive reduction in content from the old intranet to the new Hub as a result of the content audit.
This intranet implementation was impressively delivered within a narrow and ambitious six-month period.
The very detailed project methodology follows multiple good practices, particularly around governance.
There is strong support for content authors with ongoing engagement and recognition.
Communication with stakeholders and sponsors has also been well executed.
We love the recreation of the 'Around the Grounds' newsletter brand as an area of the intranet, helping to support adoption.
There's a good commitment to analytics with the Power BI dashboard, and making this available to content owners.
The levels of adoption are excellent.
There's a good use of the Viva Connections Dashboard to connect frontline staff to task-related resources.
Full case study
Get a copy of the full case study as part of the 2023 Intranet & Digital Workplace Showcase report. This is packed with real-world screenshots and insights that will inspire your leadership team, and help you deliver a successful project.