Modern intranets play an increasingly important role in business, but they can't stand still, or be taken for granted.
As we've all experienced when travelling by air, it's not enough for an airline to just keep planes flying with regular maintenance. They must constantly update their planes with the latest seats, entertainment systems, engines, navigation systems and more to meet the increasing demands of users and stakeholders.
Intranets are no different. They are complex pieces of machinery containing many moving parts. They are also critical vehicles to help your organisation — and your staff — be more productive.
The pace of change within organisations has stepped up a level, staff engagement has become critical, and ever more must be done with less.
Intranets can't stand still. For every day that they remain the same, they fall further behind what organisations need and expect.
At their best, intranets underpin every aspect of workforce activity, whether it's keeping staff informed, or providing them with everyday tools and applications. Modern digital tools can meet today's business challenges, as well as creating new digital opportunities.
Only with sustained attention, however, will your intranet remain relevant, engaging, productive and valuable. Keeping up, or even getting ahead, doesn't need to be a big deal.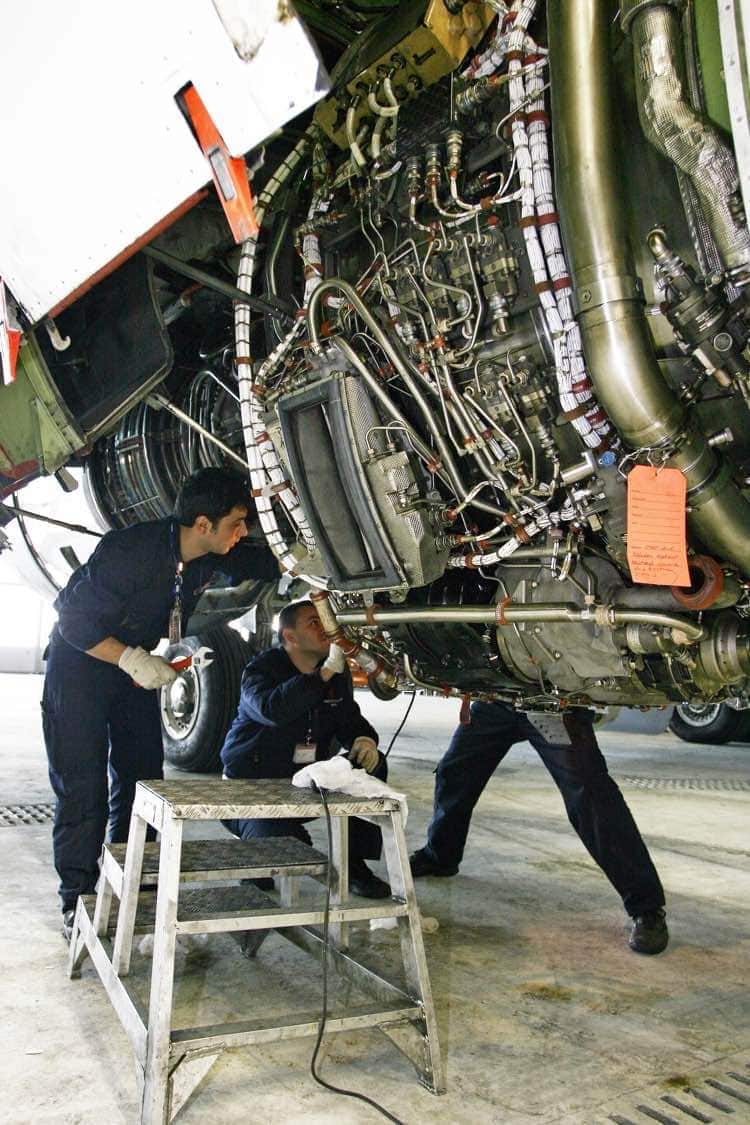 Like any complex piece of machinery, intranets need regular servicing
Use our annual intranet review package to target efforts and plan the year ahead with confidence
Step Two is offering a unique methodology for assessing your intranet: from the site delivered to staff to under-the-hood management.
The annual intranet review measures a total of
 80 assessment criteria, across every aspect of the site, from internal communications to business systems. The criteria provide a comprehensive assessment, from intranet fundamentals to leading-edge features and approaches.
At its heart, the annual review is designed to keep your intranet moving forward.
The assessment identifies opportunities for your intranet to deliver greater business value, as well as targeting current site strengths and weaknesses.The review draws on 20+ years of intranet knowledge, gathered by Step Two over hundreds of engagements.
Our engagement consists of five main elements:
Reviewing the current situation, via discussions with the intranet team and a review of existing documentation.
Understanding the business landscape by meeting with key intranet stakeholders.
Conducting the expert review of the intranet, across 80 assessment criteria.
Delivering the assessment report, highlighting strengths and weaknesses of the intranet, as well as making practical recommendations for improvements and next steps.
Giving a final presentation to key intranet stakeholders and other business leaders.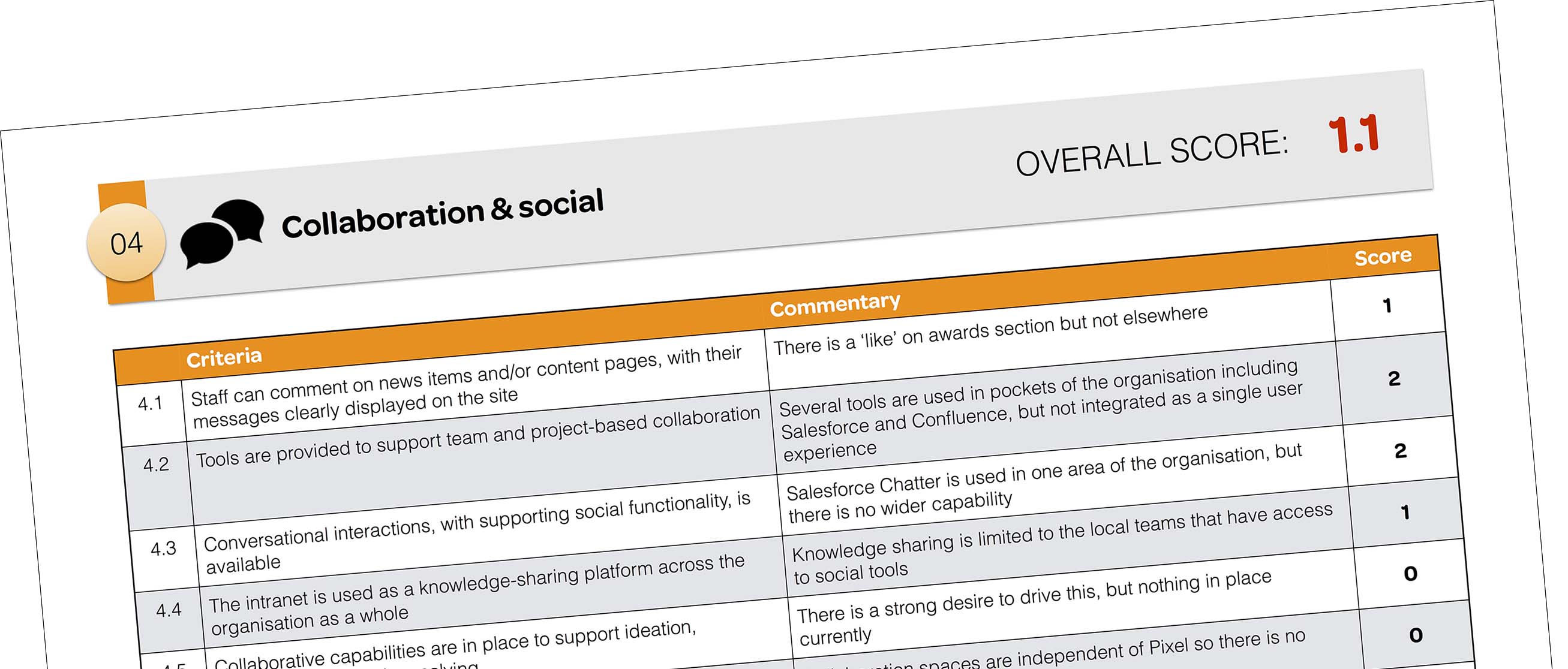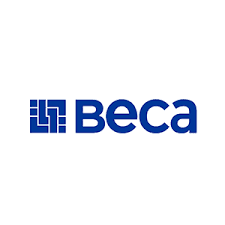 Step Two completed a review of our existing intranet in September 2018. At the time we were transitioning from a very old intranet platform to O365/SharePoint Online. While there was work underway to migrate content we didn't have a fully formed intranet vision, governance, or resource management process. We needed a more detailed development roadmap to guide and focus our activities.

Step Two were able to review all aspects of the current intranet and spoke to a range of key stakeholders from the business. They were able to quickly identify our pain points and highlight areas where there was scope for improvement. All the recommendations aligned with both intranet best practice and the business requirements identified by key stakeholders and current intranet administrators.

Step Two's assessment pin-pointed what was working well now, general areas for improvement, and key opportunities for us to focus on for the next 12 months. Their approach was proactive and pragmatic offering practical suggestions that were realistic and achievable. They also took the time to go through the review in great detail to provide context and explanation for each aspect of the audit, ensuring that our intranet team were fully briefed on each recommendation.

I would highly recommend the Annual Intranet Review to other organisations as a way to help build a more strategic and focused foundation for an Intranet that meets the requirements of their business.
- Justine Cormack, Group Information Services Manager, Beca

Step Two took the time to understand our organisation before diving into an assessment that measured our intranet against a very comprehensive set of criteria.  The measures covered by the Annual Intranet Review go well beyond checks against general web standards and cover a challenging and inspiring range of ideas.  The report was perfect – articulate and concise with well-delivered insights that generated immediate enthusiasm and support from our executive team.
- Tanja Stojcevski, HealthShare NSW
The annual intranet review is about taking actions to better support staff and the organisation as a whole
What you get from the review
Quantified assessment of the intranet, highlighting strengths and weaknesses.
Recommendations for actions across all aspects of the intranet, outlining practical steps that can be taken by the team.
Invaluable input into planning the year ahead, allowing the intranet team to easily prioritise activities and enhancements.
Engagement with leaders and key stakeholders, taking them on the journey and demonstrating where work is needed (and why!).
Foundation for a business case, giving concrete evidence for proposed improvements and deliverables.
Package details
The annual intranet review is offered as a package, with a tiered price based on the size (and therefore complexity) of your organisation:
| Size of organisation | Package price (ex GST) |
| --- | --- |
| Less than 500 staff | depends on complexity |
| Less than 2,500 staff | AU$19,000 / NZ$16,000 |
| More than 2,500 staff | depends on complexity |
Get in touch, make it happen