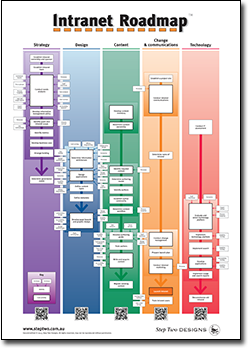 The Intranet Roadmap outlines all the activities needed to design or redesign an intranet. It provides a clear project management methodology and checklist for teams approaching this sometimes daunting task.
The wallchart can be found on the walls of over 1,000 organisations, providing a starting point for intranet redevelopment projects.
In addition to the booklet provided with the poster, we have published 300+ articles covering every element of intranets. This page provides "quick jumps" to articles related to individual steps on the roadmap.