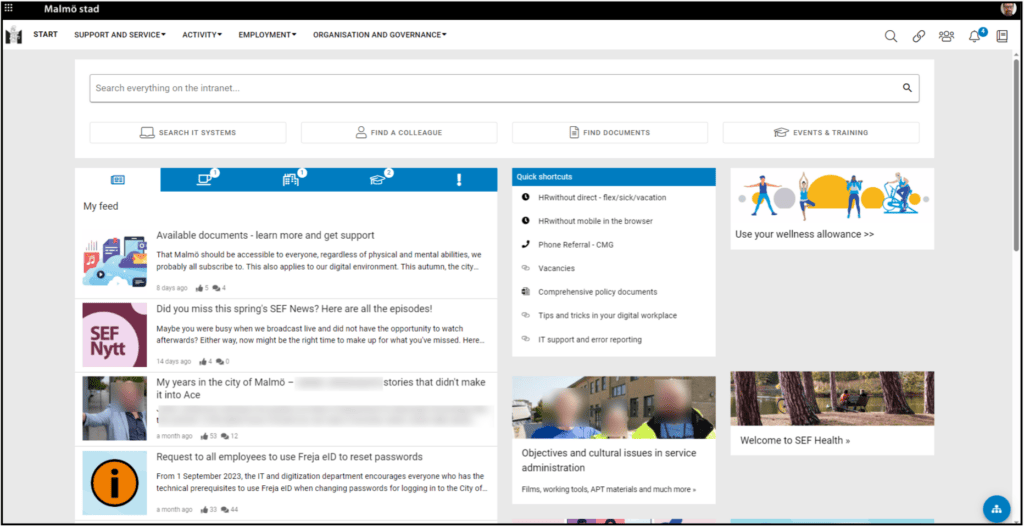 * Screenshot remains the copyright of the entrant, and may not be reproduced without written permission.
City of Malmö: Improving the intranet so it remains user-centric
The City of Malmö is a Swedish local government body with 28,000 employees. As part of a wider digital transformation, its intranet 'Komin' has gone through a comprehensive redesign and replatforming. This involves a new user experience and information architecture, as well as an extensive use of personalisation. Since the launch, the intranet has evolved through continual improvement and ongoing end user engagement.
There is an extensive use of impact maps to support the prioritisation of new features and ensure that the intranet is aligned to strategic goals. The intranet team is also working on a wider digital workplace impact map with accompanying instructions to allow other application owners through the organisation to use impact mapping.
Overall, the new redesign of Komin has achieved high levels of user satisfaction and good adoption.
Why this won a Gold award
A strong commitment to user involvement and engagement has driven the initial design and ongoing changes, and has been integral to the success of the platform.
We love the use of impact maps to communicate, plan and prioritise the intranet and digital workplace in ways that are user-centric.
The creation of the wider impact map to enable other application owners to use the technique is a great example of an intranet team adding value and extending its influence.
We applaud the extensive use of personalisation to meet the needs of a very diverse workforce.
There has been comprehensive improvement to the content structure and information architecture.
The intranet is having a positive impact in terms of satisfaction and adoption.
The changes are helping to drive a culture of continuous improvement.
There's some very solid work carried out to present global and local content together.
Full case study
Get a copy of the full case study as part of the 2023 Intranet & Digital Workplace Showcase report. This is packed with real-world screenshots and insights that will inspire your leadership team, and help you deliver a successful project.