Managing the information and knowledge of an organisation has never been more important. An aging population is seeing many experienced staff leaving, while those that remain are required to do more with less in these difficult times.
We can identify key knowledge needs and bottlenecks, as well as developing an overall knowledge management (KM) strategy. Our unique strength is in conducting field research to understand the knowledge needs and issues of operational staff.
The challenge
Knowledge is always challenging to manage, particularly in these uncertain times:
organisations are under pressure to work more efficiently and coherently
information and knowledge overload is widespread
the right knowledge is needed to drive innovation and mitigate risks
experienced staff are leaving the organisation, taking knowledge with them
the importance of KM is not fully recognised by senior management
How we can help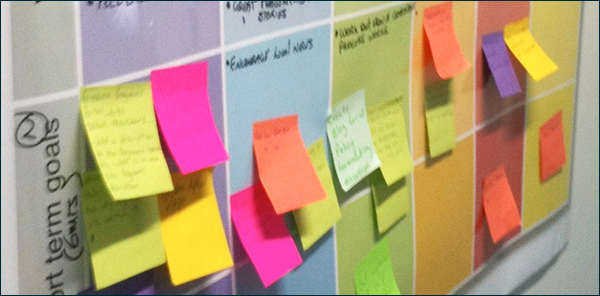 Tackling knowledge management is about understanding the interplay between people as they distil, capture and exchange information (content). The complexity of the resulting processes and technology need to be considered holistically.
Taking a pragmatic approach to KM, we use insights from our research with staff to determine concrete and actionable steps forward.
This includes:
Developing a KM strategy that ensures that individual projects (such as intranets, collaboration and document management) are consistent with overall business strategy.
Conducting knowledge audits, using practical research techniques that identify the key knowledge and processes in your organisation.
Addressing KM in frontline environments, identifying and designing solutions for frontline and operational staff, such as those in branches or call centres.
Providing pragmatic KM advice that quickly cuts through the many opinions and theories in the space.
Clients
We've worked with a wide range of organisations to address their knowledge needs, including:









What our past clients say
"Want to rebuild your intranet? Want to enhance your information and knowledge management systems? Go no further, Stephen Byrne of Step Two is the one! Dedicated to analyzing and solving your information and knowledge management needs, Stephen quietly and confidently works with you and your colleagues to bridge gaps, bring everyone together to identify the challenges, then helps the team develop a strategy and action plan to move forward. Working as an expert and personable colleague, his broad experience and skills ensure his interventions are well considered and appropriate. A pretty much unbeatable package!"

James Lenahan, International Institute for Democracy and Electoral Assistance (IDEA) (Sweden)
"Let me start by saying that working with Stephen is fantastic. He is able to get to the core of an issue even though presented with disparate groupings of information for varied people. He has provided a very positive approach and engaged all the staff in our organisation with the knowledge management project. This is also the first time in our organisation that we have ever had an external consultant come in that all staff have engaged with so positively and raved about. No issues raised or negative feedback what so ever. A minor miracle."

Andrea Bryant, Senior Manager, Business Improvement, RIRDC