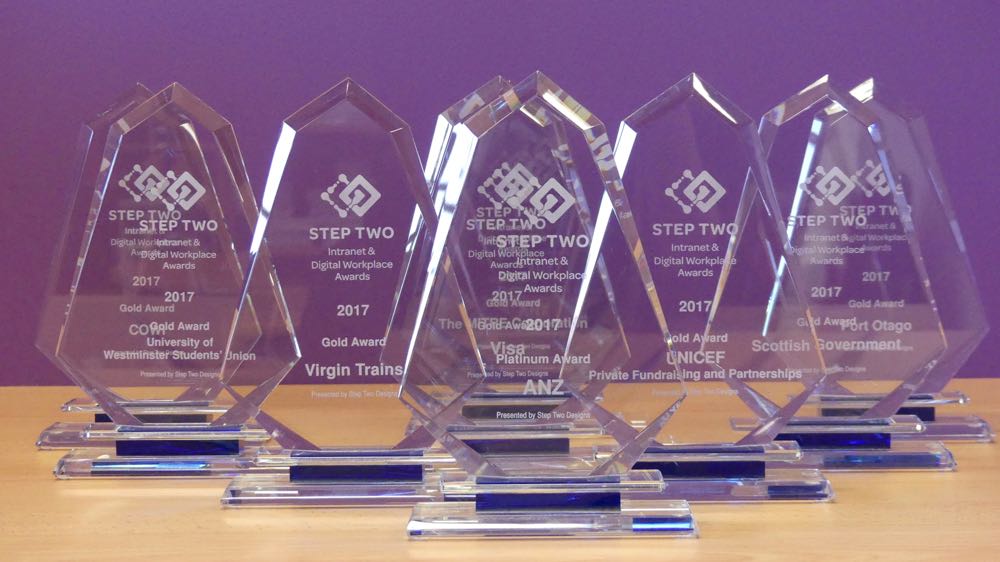 Themes from the 2017 Intranet and Digital Workplace Awards

BEST PRACTICE ARTICLE
Filed under: Announcements, Digital workplace, Intranet and digital workplace awards, Intranets, Latest Features
The  2017 Intranet and Digital Workplace Awards were, again, a reminder that intranets, digital workplaces and the teams behind them are in a good place. Whether a traditional global intranet, a social platform or a chatbot attached to a fridge (!), digital workplace technologies are making a difference for the employees and the organisations they work for.
This year the awards received 68 entries from 64 organisations, slightly up from last year. Submissions came from both well-known large global organisations and very small companies, from a variety of industry sectors.
Across the winning entries, there were a number of key themes. Here's six that stood out for us.
1. Enterprise social networking reaches a new level of maturity
Social networking has been a core component of new intranets for several years, but it has now reached a new level maturity where some organisations are experiencing high value and getting great adoption. This is achieved by following a growing body of proven approaches and good practices.
ANZ is a global bank which has taken inspiration from this body of best practice to deliver a truly excellent roll-out of a social network. This was a textbook implementation. The team researched user needs and derived a strategy which dictated the project plan, roadmap and also defined KPIs. There was also a commitment to change management with targeted communications and resources, senior leader involvement, a network of champions, targeted training offered to different groups, a commitment to community management and some light governance.
Critically, the team pegged value to a set of specific, measurable processes and use cases where social tools are having an impact. MaxConnect is helping answer key questions across the bank, improving processes for customer-facing staff and much more. At its heart the social network is helping employees work better and is a core business improvement tool.
2. New content creation trumps migration on leading intranets
Content quality is critical for intranet success. Recognising this, intranet teams are choosing to invest in overhauling and creating new, user-focused, engaging and high quality content for their new intranets, effectively abandoning the idea of the more traditional migration process.
Content migration has always been an important, element of large-scale intranet projects, but it is time-consuming and has logistical challenges. Often one of the issues with the old intranet will be a huge surplus of poorly written, out of date content. Therefore the  process of selecting, mapping and transferring content over from the old intranet is an excellent opportunity to review and refresh content to make it effective for employees.
Organisations are approaching it in different ways. Scottish Government's old  intranet had 50,000 pages delivered by over 500 publishers and was no longer 'fit for purpose'. The team decided on a centralised publishing model.  Following an audit and analysis of previous pages, content was completely rewritten by a temporary team of four writers who worked to a new set of publishing guidelines and a number of set content types. Subject matter experts ensured copy was accurate. The result is a dramatically reduced set of content which is far more suited to employee needs and much more findable.
Meanwhile Visa also delivered an excellently designed new intranet. Again the publishing process was partly centralised to reduce 10,000 pages and reorganise them into 400 sites. A fresh tone of voice and a sharp focus on tasks helped shape the content, but it was also key that it was suited to being read on a mobile. The Visa intranet now combines beautifully formatted content with helping users get their work done. None of that would have been possible if there had just been a straight 'lift and shift' of content from the old to the new intranet.
3. Intranet teams are still innovating and intranets still evolving
There is still plenty of room for innovation in the intranet space with teams bringing in new ideas or twists on old ones. These innovations range from specific features which are small and modest, to far bolder approaches. One of the reasons intranets have been around for 20 years, is their very ability to adapt to and absorb features from the consumer web and social media, and evolve through innovation.
The Australian Department of Human Services has produced a very neat little 'Quality Assistant tool' that automates the checking of content against various custom publishing standards for draft intranet content. On the click of a button, authors are told where there are formatting, link or other errors in their content. Links are also provided to the necessary standard or an explanation so the tool effectively becomes an on-the-job training aid for educating authors and publishers.
Other teams were focused  on exploring new ways of producing an intranet. The team behind Commonwealth Bank of Australia's One.CBA intranet was highly innovative, rethinking the traditional intranet RFP process to something closer to a hackathon with vendors collaborating in an intense three-day 'hothouse'. The One.CBA intranet itself had various new approaches including a framework for presenting content inspired by music streaming services with playlists, tracks and albums. How this will work with users remains to be seen, but it is healthy that intranet teams are actively experimenting.
4. A digital workplace for frontline staff must be mobile-first
Enterprise mobility represents an excellent opportunity to serve the needs of frontline and field workers. A mature, truly mobile-first digital workplace can reap real results in an organisation where most employees don't work at a desk. In the past, logistics has led to many employees who who work in factories, shops or out in the field being poorly served by digital services. However, things are moving in the right direction.
Virgin Trains' 3,500 UK-based workers access a rich set of mobile apps and tools not only to get things done, but also to drive a unique and lively organisational culture. Since the company ditched its underperforming, traditional desktop intranet the digital team hasn't looked back. Virgin Trains' 'Amazing Apps' store presents a variety of mobile apps around different needs for various roles. Apps cover everything from helping passengers to cleaning guidelines to supporting engineers.
But it's in the field of communications and engagement where Virgin Trains truly innovate with communications run via Yammer, an app for critical announcements, a video channel, a recognition program, and even 'Vibe", an app which tracks how employees feel about the company. Each of these apps is built primarily for a mobile experience rather than the desktop and, overall, the digital workplace has great levels of adoption and also supports high levels of engagement.
Avon and Somerset Constabulary in the UK developed a powerful new intranet called Pocketbook which is supporting the police and improving processes. The intranet serves the needs of various different groups from emergency call handlers to those changing shift, but has also taken a mobile-first approach to provide critical content to officers on the beat. Pocketbook is a first step towards a mobile-first digital workplace.
5. A robust methodology plus talented team equals success
If there is one magic ingredient of a great intranet or digital workplace, it is strong execution. Intranets and digital workplaces are implemented by talented teams undertaking a robust project methodology which ensures that the solution is focused on user needs. Critical stages include a research and discovery phase which ensures the project team has a thorough understanding of how employees work, an iterative development process where users give feedback on what is being delivered and vigorous user acceptance testing.
The UNICEF PFP intranet team undertook some innovative discovery work to really understand user needs, asking users to build a theoretical new intranet out of Lego bricks with different colours representing different capabilities. By remaining close to users, the team was able to completely rethink the intranet experience.
The University of Westminster Students' Union intranet was conceived, designed, built and project managed by one person, and the results were excellent. The intranet team of one even asked his grandmother to perform a usability test! Meanwhile Shire worked on a strong governance framework prior to undertaking the actual intranet build. This approach allowed them to build a cutting-edge and ambitious intranet which is sustainable but also controlled costs were through a clever use of design templates.
Teams also need tenacity and patience to drive forward an intranet project. PANDORA, focused on the change management aspects, taking a year-long program of intense roadshows and training to drive adoption. There's little time to rest for intranet teams but they deserve to pause to reflect on their excellent efforts.
6. High impact apps are based on simple ideas
Apps designed for employee use – particularly those which are used primarily through mobile devices – can be powerful and potent, improving processes, driving efficiency and even contributing to digital transformation.  The core idea behind the most successful apps can be very simple; either fixing a clear problem or providing an obvious opportunity to do things better. Port Otago and COWI both have processes where data needs to be entered and viewed by employees on the front line and out in the field. Both organisations have been able to implement highly targeted, successful apps at a relatively low cost and effort.
At port services company Port Otago, shipping containers are washed and repaired in the washpad area of the company. Previously, progress and instructions were recorded on paper. Digitising the process by using tablets to view and record the progress of work in the washpad has not only produced excellent ROI (1.2 FTE time saving) but also had other benefits. Because the app is delivered via the intranet it means all staff can view progress, and a large screen has been installed back in the office. More accurate data entry is also tangibly improving customer service and flowing back into their container management system.
At engineering firm COWI site supervisors and inspectors now make notes on site for their reports on their tablets or smartphones using the FieldNotes app. The app leverages native device features so employees can also add photographs and relevant maps and even dictate their notes. The clever feature is that notes are also automatically sent to the relevant SharePoint project space and formatted into a Word document so an inspection report can easily be fully completed. The app is effectively connected to the wider digital workplace.
Get inspiration from 18 great case studies with screenshots
The full 2017 Intranet and Digital Workplaces Showcase report features detailed case studies of all 18 winning entries, each detailed with multiple screen shots of the sites in question. At $189 it's exceptional value, helping to both inform and inspire intranet and digital workplace teams. Report sales also support the effort it takes us to keep on running the Awards.
Enter next year!
If you're currently doing great work on your intranet or digital workplace, visit the Awards page, and sign up to be notified when next year's Awards opens for entries in April 2018. We're already excited about what next year's submissions will bring!