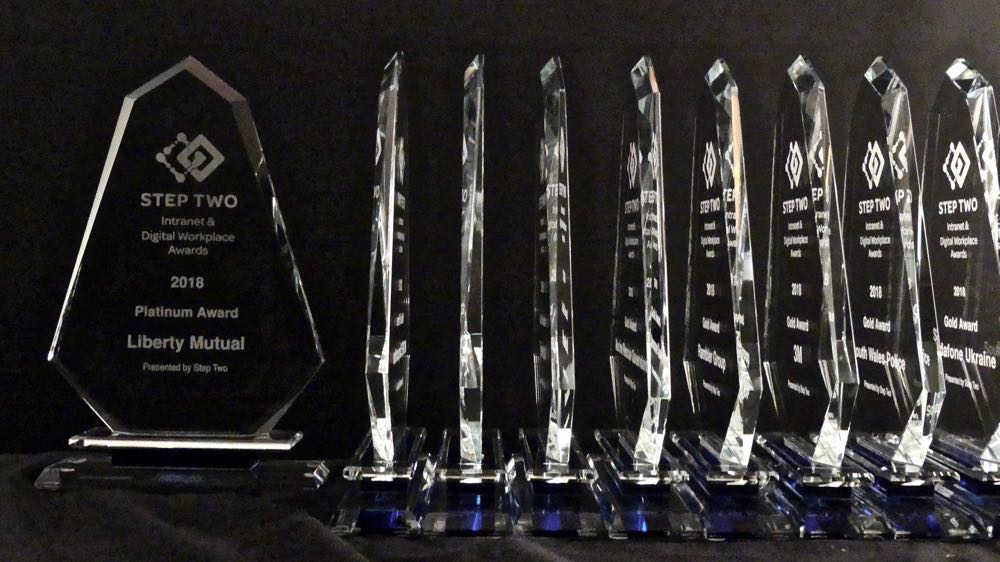 Six themes from the 2021 Intranet and Digital Workplace Awards

BEST PRACTICE ARTICLE
Filed under: Digital employee experience, Digital workplace, Intranet and digital workplace awards, Intranets
In 2021, intranets, digital workplaces and digital employee experience have proved to be critical in ensuring business continuity, engaging employees and keeping everyone informed during an incredibly difficult year. The digital tools and important information that employees access every day have proved to be of incredible value; similarly, the teams behind these channels have played a huge role in helping individuals, teams and businesses navigate the challenges of COVID-19.
The 2021 Intranet and Digital Workplace Awards show the very latest trends in intranets and digital workplaces. They confirm that digital employee experience continues to evolve and improve. Interest in the awards remains strong and this year we received 69 entries from 66 organisations in 20 countries, an increase of nearly 25 percent on the volume of entries from last year. Entries covered the full range of organisations of different sizes, across different sectors and from different territories.
Full details including hundreds of screenshots can be found in the Intranet & Digital Workplace Showcase report.
Here's six of the stand-out themes:
1. Mobile apps are revolutionising frontline DEX
A wave of employee communication apps that focus on the specific needs of frontline staff is revolutionising the digital employee experience for a group that has previously been poorly served by digital tools.
At last frontline employees have a mobile-first digital experience accessible on their own devices that is driving engagement and improving processes. The digital gap between frontline, mobile, field and customer-facing staff on one hand and knowledge workers on the other is starting to close.
Global logistics giant Deutsche Post DHL has over 500,000 employees worldwide, most of whom work on the frontline. The company aims to deliver a single app to all employees that provides strong frontline DEX through content, integrations and useful features, but is relevant for every employee through local and regional variations.
The sheer ambition of one common mobile app and the scale of the project is daunting, but the team is already making great progress, supporting operations in different territories, and driving momentum with a carefully crafted launch campaign.
Other solutions carefully pinpoint specific frontline needs. Russian steel producer NLMK launched an app focused on the custom needs of staff working in plants. Available on employees' own devices, the app provides access to NLMK's corporate portal but also includes additional features.
These include a safety hazard reporting feature where photos can be submitted, a back-up of a person's mobile security pass if it has been forgotten, and the ability to request PPE equipment. By focusing on very specific frontline use cases, the app is driving both adoption and value.
At Irish retailer Woodie's, a social intranet and mobile app engages retail employees through a mix of transparent communications, peer recognition, lively hashtag campaigns, CEO blogs, polls, celebration of Woodie's culture, and operational information. The mix of strategic thinking and excellent execution has resulted in a large uptick in engagement over a number of years and spectacular levels of adoption.
The mobile-first approach has also been essential, as 70 percent of access is through the mobile app, mainly on personal devices. The result is a digital employee experience that has continually improved over five years.
2. Wellbeing is now at the heart of DEX
Health and wellbeing has been on the HR agenda for a while, but it is now increasingly visible across intranets and digital workplaces, mainly in content, but also in features too.
The stress and uncertainly caused by COVID-19 has focused attention on the importance of wellbeing even more, and it is now at the heart of digital employee experience across many organisations.
At Adobe the project team working on the Adobe Life solution decided to place wellness at the heart of the mobile app, with a variety of content including information on mobility exercises, circuit training, health-related podcasts and even opportunities to cook along with Adobe chefs. Tips for effective working from home and information about returning safely to the workplace also focus on the wellbeing theme.
Other intranets are also surfacing wellness-related content in increasingly visible ways. The Monetary Authority of Singapore created an area on its homepage for the recreational club, promoting social events, wellness talks and related programs.
At MassMutual, the team took an imaginative approach to fill the space where the (currently closed) canteen menu would have been on their homepage, instead providing healthy recipes from their staff restaurant partners. Meanwhile at UK retailer John Lewis Partnership, a microsite was set up for furloughed staff that also featured content on wellbeing to help staff through a very difficult time.
Wellbeing is also a subject for innovation. At Russian housing organisation DOM.RF, the team created an advanced intranet which provided access to numerous digital services, including a series of advanced employee dashboards. One of these was a highly innovative employee burnout dashboard that uses artificial intelligence to examine digital interactions and identify employees who are in danger of "burnout". Other HR dashboards provide context to see if interventions should be made to support employee wellbeing.
The full impact of this is still to be ascertained, but it is an unusual and exciting development that indicates the prominence currently being given to health and wellbeing across the world of DEX.
3. Digital workplace dexterity is critical for teams
The ability to be agile, flexible and adaptable to ensure a lightning-quick response to organisational and employee needs is now a critical quality for the teams who manage intranets and digital workplaces.
"Agile" as a methodology has been increasingly prevalent in digital workplace projects, but the importance of having an agile mindset and applying iterative approaches has never been so crucial for so many teams.
During COVID-19, teams have exhibited extraordinary levels of digital workplace "dexterity" in order to respond to a situation that remains highly volatile. They have proceeded with speed and imagination to make all the difference to help employees.
Cleaning services provider SERVPRO used the intranet to support essential business operations across a huge franchise network, stretching its intranet nearly to breaking point by using it to launch a new COVID-specific cleaning line. This resulted in US$300m of revenue and met high demand in response to an extreme weather event.
Equally impressive was the way the team used the intranet in inventive ways to deliver a virtual week-long convention for franchisees with live streaming, interactive chat, recorded events and commenting. With 98 percent participation, this was an excellent result!.
At Adobe, a team working on a campus app for the company HQ showed great spirit by quickly pivoting when the pandemic struck. The scope of the app changed to being global for all Adobe locations with a new emphasis on wellbeing and the ability to support "return to the office" processes that help employees stay safe. The addition of "home" as a location, with homeworking tips, was a nice touch.
Meanwhile at Irish retailer Woodie's, the team is able to use the social platform and app to understand and respond to employee feedback. This helped to inform the company's COVID-19 response, but also enabled the team to act on specific suggestions. For example, following a specific employee idea, they amended and updated a savings scheme, and informed employees of the change, all within half an hour! That is truly agile.
4. Sustainable DEX requires robust foundations
Successful and sustainable digital employee experience doesn't happen by magic – it requires strong foundational work to create the right structures, roles, processes and standards that enable DEX. For an enterprise-wide DEX program to succeed, a huge amount of groundwork is needed to define and embed governance.
Governance is a term and concept that intranet and digital workplace teams will be familiar with, but it is still often misunderstood, and for some, has a negative association with bureaucracy and telling people what to do.
Actually, governance is positive! It enables great user experience, high quality content, strategic relevance, continuous improvement, and a more sustainable intranet, as well as aligning different stakeholders to one vision. A company-wide DEX or digital workplace program has multiple moving parts, so governance needs to be comprehensive.
At Australian financial services company IAG, there is a vision that sees the value of "people experience", and a strategy and underlying governance framework for the digital workplace that helps to deliver on that vision for the long term.
Among the strong foundations in place are a cross-functional steering group, common personas and a "People Enablement" framework delivered by a permanent team sitting within the the Technology division. They cover adoption, change management, user education, analytics and ongoing dialogue with employees. With joined-up thinking and a framework that puts users at the centre of the digital workplace, IAG is able to successfully manage a digital workplace environment that continues to generate value and deliver strong DEX.
Governance and groundwork is also essential for each tool and channel within a digital workplace. At Australian energy company Origin Energy, a governance framework is helping to ensure that a new intranet remains focused on staff needs.
This has not only been established by a steering group to represent the needs of various stakeholders, but also through the formal involvement of a Working Group of content owners. As well as providing input during the project, the group has clarity via a four-tier decentralised governance model detailing the development of content, assigning ownership to content and establishing accountability. All this foundational work has resulted in a strong intranet and DEX.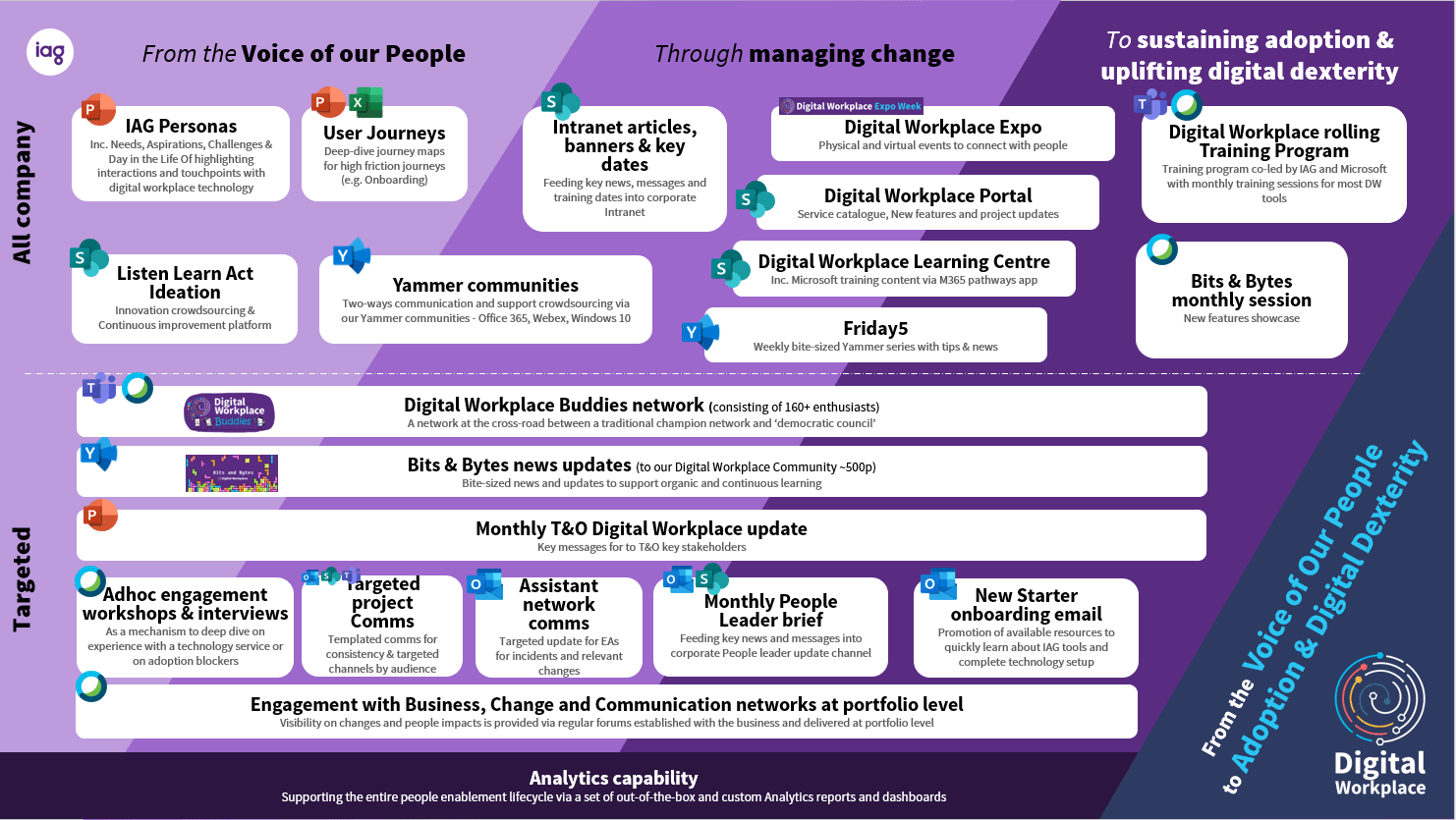 5. Amazing intranets make users feel special
Intranets continue to evolve and improve, with leading-edge intranets producing beautiful designs and high value features that employees want to keep returning to. Personalisation is a critical element of a successful intranet and means teams can deliver highly tailored experiences for each individual that can make a user feel special. When you combine a strong user experience and personalisation, that's when the magic happens.
Amazing intranets are paying attention to detail and producing personalised design elements and imaginative flourishes that stand out for users.
At US financial services company MassMutual, the new intranet is helping employees become more productive, but also reflecting and cultivating a more relaxed company culture. Little details such as an informal personalised welcome message with humorous microcopy that changes through the day, as well as personalised information from Workday and ServiceNow, lifts the homepage from being just another intranet.
Meanwhile at Mountain America Credit Union, hard-baking a little personalisation into the design of the company's key knowledge base adds value by letting users know which knowledge items are new or updated, and which have already been read by the user.
Other intranets also include features that aren't necessarily personalised, but make them feel less corporate. DOM.RF's intranet homepage includes a listing of employees' birthdays, while PSB Bank includes colourful and striking custom artwork to celebrate different days through the year, which is prominently displayed on the hero area of the homepage.
At Greater Bank a friendly robot avatar called Evi helps to give the intranet some personality and even posts tips, and at Raiffeisen Bank Aval , an offbeat houseplant avatar called Ficus guides users and even stars in humorous comic strips.
Meanwhile at John Lewis Partnership, a comms-focused intranet speaks in everyday language to staff, dividing homepage stories into "What you need to know" and "If you've got more time". Even relatively modest features such as this can change the whole feel of an intranet.
6. Automation and integration lead to DEX success
Excellent digital employee experience is as much about efficiency and productivity as it is about engagement. Digital channels and apps that are focused on DEX deliver automation, workflow and integrations that improve processes, saving employees time and helping them to complete tasks and transactions.
The very best intranets not only deliver a web publishing platform, but are also proving to be highly effective delivery mechanisms for automation and improvement across a range of organisational processes. Mobile apps for employees are also increasingly powered by integrations, reducing the need to visit multiple systems and applications.
At Russian housing organisation DOM.RF, the intranet includes the communications and evergreen content that you might expect from any intranet, but it is also a platform that helps to standardise and digitise key business processes and workflows.
There are extensive integrations and use of AI, supporting processes such as desk booking, COVID-19 monitoring, an employee 360 review process, a quarterly "OKR" employee feedback system and an ecosystem of HR-themed dashboards.
Even a simple process like automated employee photo processing intelligently trims an uploaded photo to size, formats it to be included in a number of different systems, and operates the necessary workflow. This isn't a traditional intranet!
PSB Bank has a similar aspiration for its intranet, which delivers engaging and informative content, but also includes features that help employees complete tasks and stay productive. These features include an employee dashboard with HR data from different systems, a personal task module with integrations and a Kanban view, a KPI system with management approval, a Service Management System that centralises workflows, and an employee onboarding system. PSB Bank is blurring the lines between intranet and digital workplace.
A number of mobile apps also deliver capabilities based on integrations that add value for employees. The Adobe Life app integrates with desk and meeting room booking systems so employees can prepare for their trips to the office.
Deutsche Post DHL's employee app is focusing on integrations with HR systems, to enable self-service. Going forward, NLMK's app will focus on production services with processes that impact steel plant workers. Whether through an app or via an intranet, DEX is delivering real world efficiencies for staff.
Get inspiration from 15 great case studies with screenshots
The full 2021 Intranet and Digital Workplaces Showcase report features detailed case studies of all 15 winning entries, each detailed with multiple screen shots of the sites in question. At AU$274/€170/US$200 it's exceptional value, helping to both inform and inspire intranet and digital workplace teams. Report sales also support the effort it takes us to keep on running the Awards (which have no associated fees).
Enter next year!
If you're currently doing great work on your intranet or digital workplace, visit the Awards page, and sign up to be notified when next year's Awards opens for entries in January 2022.