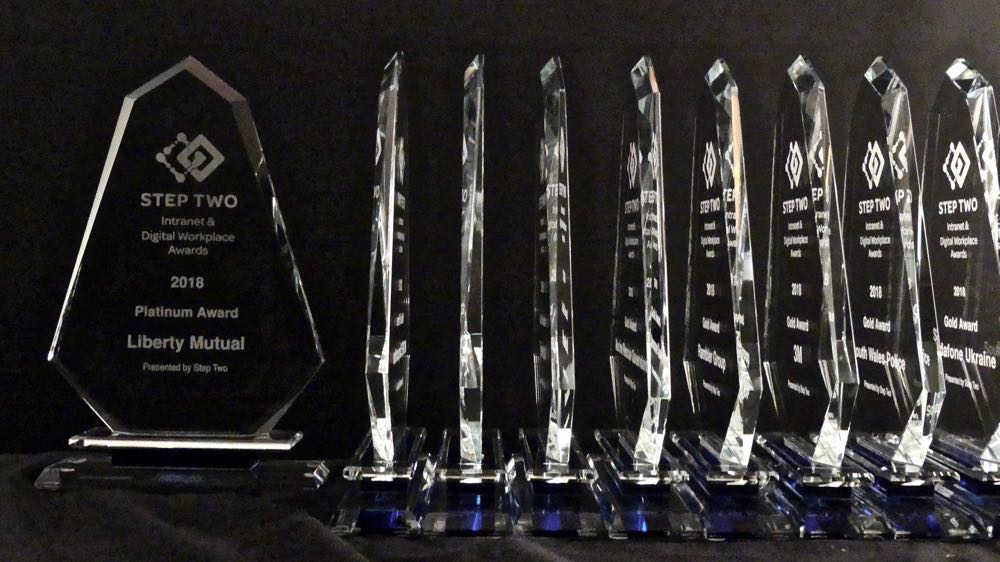 Six themes from the 2020 Intranet and Digital Workplace Awards

BEST PRACTICE ARTICLE
Filed under: Digital employee experience, Digital workplace, Intranet and digital workplace awards, Intranets
In 2020, intranets, digital workplaces and digital employee experience have proved to be vital in allowing organisations and employees to work through highly volatile and challenging times. Even in more normal circumstances, organisations are implementing intranets and digital workplaces that are making a real difference by delivering exceptional digital employee experiences (DEX). These solutions are helping employees, driving efficiencies and supporting strategic goals.
The 2020 Intranet and Digital Workplace Awards once again show that intranets and digital workplaces are still moving forward and changing for the better. Interest in the awards remains strong and this year we received 56 entries across 54 organisations and 19 countries. Entries covered the full range of organisations of different sizes, across different sectors and from different territories.
Full details including hundreds of screenshots can be found in the Intranet & Digital Workplace Showcase report.
Here's six of the stand-out themes:
1. The democratisation of automation has arrived
A digital megatrend over the last decade has been the transfer of power from IT to end users. Sophisticated capabilities now mean that non-technical workers can deliver impressive outcomes in today's digital workplaces.
Now these 'citizen developers' are getting more power to automate processes in ways that drive efficiency. The 'Power Platform' in Microsoft 365 consisting of Power Automate, Power BI and Power Apps, is the key platform that is driving this democratisation of automation.
At Singapore-based company SP Group, the Power Platform has transformed the process for reporting gas leaks that need to be repaired throughout the country. The previous process was largely manual, very inefficient and lacked transparency. Now a combination of Power App, Power Automate flow and Power BI dashboards means reports are filed from iPads out and about and other teams are notified in real time.
What turns this story from a good one to a great one is that the IT function had minimal involvement. This has all been delivered by business users within the Gas Unit, who in turn were inspired by a wider company program to encourage digital champions. At SP Group, citizen developers have achieved impressive results, driving a huge leap in efficiency at very little cost.
At Telstra, the Cyber Influence team utilised the Power Platform to create flows and dashboards that automated their champions program, doubling the size of it with no extra effort. Again, this has been achieved with very little or no IT involvement, and it has underpinned the sustainability of this important initiative.
Some IT functions are driving this forward by actively encouraging power users and site owners to take a more self-service approach.
In 2020, these examples are the leading vanguard of the wider trend across the industry. Alongside the Power Platform provided by Microsoft are a raft of other solutions, such as the automation-friendly platform Slack, and a wide range of point-and-click integration tools. We expect to see even more of these examples in the 2021 Awards.
2. Integration drives digital employee experience
Digital employee experience (DEX) provides a human-centric view of digital tools and practices. Behind the scenes, integration between systems is enabling a great experience for workers in a wide range of organisations.
Integration helps employees to complete transactions and view essential information without having to visit multiple, disparate systems. Having one place to go delivers productivity gains and removes frustration.
These benefits are magnified when integrations enable beautifully designed experience that are attractive and intuitive.
At medical foundation Wellcome, the Drupal-powered intranet has very high levels of adoption and engagement; it's an intranet that employees really seem to love. 'Trustnet' has the lofty ambition of being the 'operating system' for Wellcome and delivers this via integrations with multiple systems including ServiceNow, Microsoft 365 and the meeting room booking system.
The aesthetics of the design are very high, and integrations are delivered seamlessly and consistently, wrapped into a beautiful design while also ruthlessly focused on the needs of users. Combining eye-pleasing design, clear labelling and intelligent integrations, it's no wonder the intranet is so highly valued.
At Russian media company Avito, the new intranet and HR portal, 'Avito People', drives efficiency and engagement, partly through HR automation and integration. The LMS, Slack, 3D maps and meeting room booking system are all integrated. Beyond this, Avito People also boasts built-in capabilities such as a complete Performance Review system.
The intranet engages a young, tech-savvy workforce through consistently beautiful designs, with a clean but colourful branding that's aligned with Avito's culture.
In both cases, integration combined with superb design have delivered meaningful benefits for organisations and employees.
3. Winners demonstrate SharePoint mastery
The Microsoft 365 (Office 365) platform has been evolving rapidly over the last 2-3 years. There are now many options for delivering a SharePoint Online intranet, from out-of-the-box to custom development, and successful teams have demonstrated a new mastery of this landscape.
Across the board, intranet teams are now able to deliver sophisticated SharePoint-based intranets at lower cost and at greater speed. A whole ecosystem of 'in a box' intranet products that sit on top of or alongside SharePoint Online continues to evolve. Meanwhile Microsoft has delivered new intranet-ready capabilities in 'Modern' SharePoint Online.
The best outcome now comes from understanding these options, and making the most of them.
Global technology company Amadeus sought an intranet that would leverage the company's investment in Office 365, but would also have a strong emphasis on communication and social tools. They chose an 'in a box' product. After reviewing various choices, they selected a relatively new vendor who shared the same vision as them, and have been able to launch a compelling global intranet in just months while delivering costs savings by retiring legacy systems.
Numerous enterprises are now choosing to use 'out of the box' SharePoint for large complex intranets, an option that has only recently been truly viable. VELUX Group were able to deliver a true global intranet with just light touches of customisation, and what they achieved is potentially a game-changer.
The availability of these options is putting intranet teams in the driving seat, empowering more nuanced and sophisticated decisions on how to deliver SharePoint-based intranets.
4. Empowered communities deliver success
Successful digital workplace projects are a team effort, involving many individuals beyond the central core or project team. Recognising this, experienced teams are now putting in the effort to support these communities of co-creators, and are reaping the rewards.
Intranet and digital workplaces rely on a broad network of authors, content owners, community managers, site owners and digital champions. Award winners have taken these networks seriously, and have invested time and technology to help them prosper.
At Suncorp Group, a small intranet team has developed a formal training and engagement program to enable a huge community of 700 publishers to upgrade to SharePoint Modern. This extends to providing 'model text' for the publishers to include in personal performance plans, to properly recognise the work that they do.
At Amadeus IT Group, the intranet team created a detailed four-level training plan that includes targeted course plans to content owners and intranet champions.
At the Australian Government Department of Agriculture, Water and the Environment, the intranet team took advantage of a spare development resource to deliver an innovative custom dashboard for authors. This provides analytics for each content page across a number of factors, including readability, plus automated suggestions for improvement and the gamification of a scoring system.
With engaging and enabling power communities a critical activity, some teams are innovating in order to scale up efforts. At Australian telecoms giant Telstra, the Cyber Influence team managed to double the size of their cyber evangelist program by leveraging the automation in the Microsoft 365 Power Platform.
They introduced nicely judged gamification, a smoother onboarding process and automated communications. This has allowed them to scale up without increasing the team overhead and more people are spreading the word about cyber risks, helping employees stay safe and protecting customer data.
5. DEX is helping to educate the next generation
Younger generations have grown up with the internet, mobile apps, computer gaming and social media. This will shape their expectations of the digital employee experience (DEX), and thankfully some educational organisations are stepping up to this challenge.
Schools and universities are the first organisations to directly experience the new communication and collaboration behaviours of future workers. It is not surprising, therefore, to see them innovating their own intranets and digital workplaces.
In Australia, the New South Wales Department of Education has launched an innovative online portal based on SharePoint called the 'stem.T4L Learning Library' as part of a broader initiative to encourage STEM (science, technology, engineering and maths) learning in over 2,200 public schools.
This excellent portal contains valuable resources for teachers of STEM subjects. The most exciting feature is the ability for teachers to build, share and 'remix' different STEM resource boards made of information cards in different ways, including by QR code. The solution is based on a customisation of an intranet product, and it's designed around DEX principles with beautiful interfaces.
Brisbane Catholic Education is an organisation that administers 140 schools across Queensland, Australia. The new intranet includes a list of Teams that each teacher is a member of, on the homepage. This includes teams created for every class. These online environments are normalising the use of collaboration tools in teaching.
If pupils have already been using tools like Microsoft Teams for years before they start to work, we should fully expect demands for a good digital employee experience from tomorrow's workforce.
6. Governance underpins broader digital success
Robust governance remains a critical success factor for intranets and digital workplaces. As small teams roll out wider capabilities, such as collaboration, robust governance maximises the benefits gained, while ensuring ongoing sustainability.
What is encouraging is the focus that winning teams have put on governance, in many cases as their primary activity. The nature and sophistication of this governance has also evolved over time.
The intranet team at Suncorp Group have hard-baked governance into everything they do. Clarity for the intranet team's operation is ensured through a support model, service level agreements (SLAs), roles for content owners, extensive training, and underpinning governance processes.
At Brisbane Catholic Education (BCE), an extensive governance framework has ensured that the right strategic and operational decisions are made about the intranet. Governance measures are in place to make sure intranet content is relevant, well-written and up to date, and all authors must undertake training before they can publish.
The team at Amadeus have also established a governance model with SLAs, and a range of quality assurance processes. These align with a reporting and communication model to inform and engage stakeholders.
At DNV GL, the IT support function has also applied governance to the company's collaboration tools through the creation of a 'Collaboration Wizard'. This automates multiple processes, including site provisioning. This allows for Microsoft Teams and SharePoint team site owners to self-serve various requests, while establishing overall governance.
Automated reminders are sent to those who have sites that break the governance model, such as having only one nominated owner or not being used. The site request process also gathers relevant metadata and pushes the requester to use the right tool for the right purpose, ultimately driving better collaboration.
In all of these examples, mature governance underpins the delivering of innovative and effective intranets, and wider digital workplaces.
Get inspiration from 13 great case studies with screenshots
The full 2020 Intranet and Digital Workplaces Showcase report features detailed case studies of all 13 winning entries, each detailed with multiple screen shots of the sites in question. At AU$249/€155/US$175 it's exceptional value, helping to both inform and inspire intranet and digital workplace teams. Report sales also support the effort it takes us to keep on running the Awards (which have no associated fees).
Enter next year!
If you're currently doing great work on your intranet or digital workplace, visit the Awards page, and sign up to be notified when next year's Awards opens for entries in January 2021.