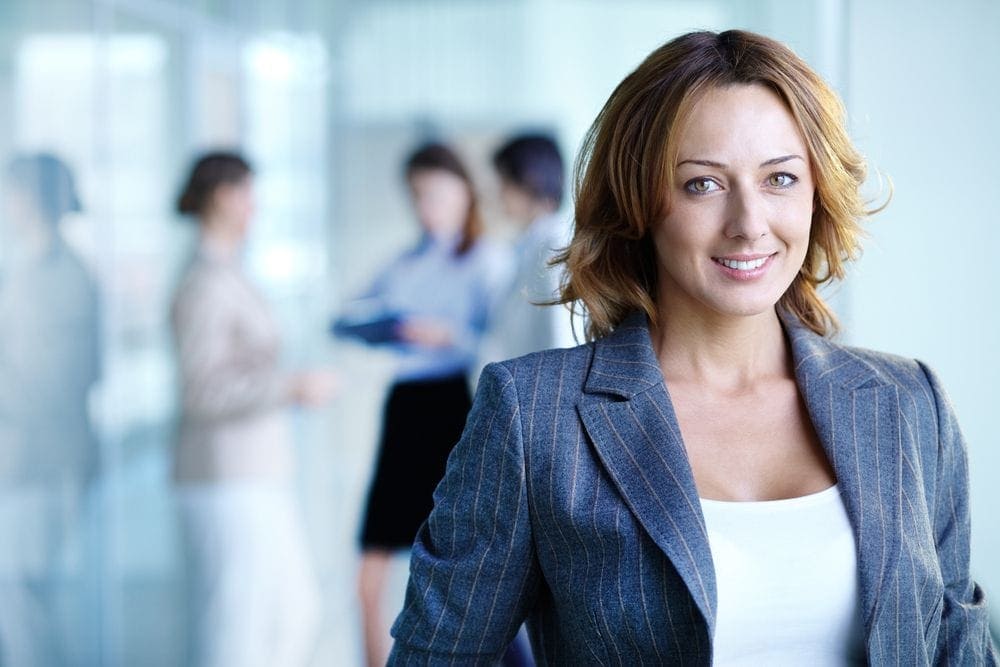 Putting people at the centre: social staff directories

BEST PRACTICE ARTICLE
Filed under: Articles, Digital workplace, Intranets
The term 'social intranet' has become popular in recent times, and describes an intranet with social media tools — blogs, wikis, microblogs, comment functionality and more — embedded within the core intranet software platform.
However, before a social intranet can be successful, work must be done to enrich and develop a much more fundamental aspect of the intranet — the staff directory. This article explores the potential of the staff directory, the impact social networks on the Web are having on intranet design, the rise of 'social search', and examples of these concepts in play in businesses already.
The killer app
Typically, the staff (or corporate) directory is already one of the most vital and well-used utilities on an intranet. Finding out who to contact and how to contact them supersedes nearly every other intranet-based process or task that employees conduct on a day-to-day basis.
Typically, the staff directory is a highly popular intranet tool
With the increasingly powerful capabilities of modern intranet platforms, the staff directory is rapidly becoming not only the most-used utility on an intranet, but actually the very heart of the system. It's the database and tool that all other features and functions are being tied to. Whether it's core functionality such as business intelligence, data reporting and record keeping, or more social features such as collaborative project areas, blogging and more, the person or people using these systems, spaces and tools is becoming the focus.
The Tube
No example illustrates this better than IDEO's much-publicised and stunning entry in the 2009 Intranet Innovation Awards.
IDEO's intranet, 'The Tube', is built to assist this world-class design agency with the project process:
Project managers can search the system for project members using details including location, disciplines, skill level, project experience and availability.
All employees have extensive profile pages that link to their past and current projects, personal blogs, status updates, workload and more.
The Tube itself is a powerful mix of applications, systems, and programming languages, all wrapped up in a beautiful, seamless visual design, but people and their information are really the standout 'feature'.
Suggesting at a foundation level that systems should essentially 'point to people, not information', the IDEO team lights the way for the future of intranet design:
'Rather than attempts to capture everything someone knows in a database with the hope that others will tap that database, we strive to identify the key bits of information that help one understand who someone is in terms of expertise and experience, so that that person can best be leveraged.'
IDEO's focus is on providing a personal reference and subsequent context to information. This is intrinsic to the concept of a rich staff directory. Parallel to the rise of social intranets is the decline of unwieldy, static 'managed content' sites. Now, when a query is made for 'product X' or specific topic knowledge, there's as much emphasis on people — employees with skills, knowledge and expertise — being placed in search results, as there has previously been on static, faceless, ownerless information pages.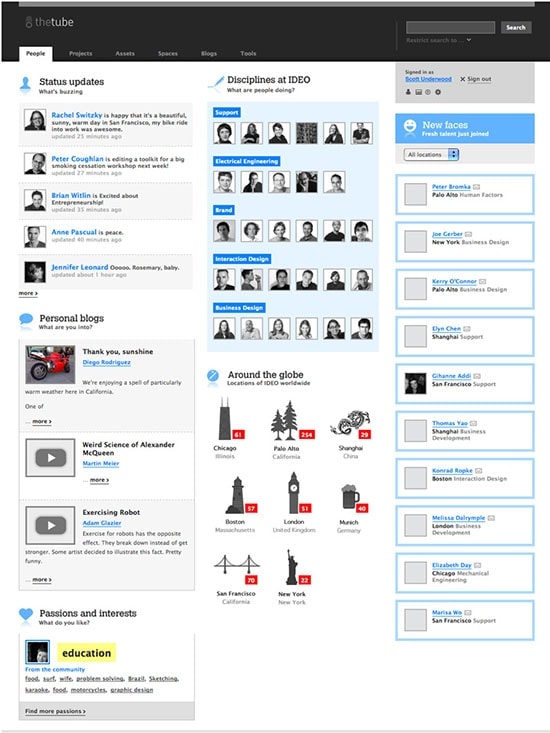 Intranets outpacing the web
On the Web, this concept is part of 'social search'. The process of searching and sifting through information is enhanced by using tagged, rated, filtered content selected as 'valuable' or 'good' by a network of other users. Social search is a term and area of development that's yet to gain widespread understanding or acknowledgement. In part, this is due to the fact that constantly evolving, algorithmic search engines like Google can still do a far better job of pointing you to the right information.
Yet on intranets, where manual tuning of search results is already widely acknowledged to lead to the best results, social search will be defined far more easily, and gather steam far more quickly.
Social search on intranets will gather steam quickly
In the recently published research report, How to use social media to solve critical communication issues, futurist Ross Dawson outlines seven key trends for the future of internal communication, one of which highlights the value of people-oriented information systems:
'In the future, the promise of social search will finally bear fruit with, for once, enterprise technology moving ahead of consumer technology. Rich profiling of users, what they're working on, what they're searching for, and what they're finding useful in their tasks will drive highly contextual and relevant results, including selective context-based pushes of information.'
Dawson has substantial credence on this topic. As author of the book, The Living Networks published in 2001, he predicted the rise of online social networks as critical web and business services and tools.
As more and more intranets, such as IDEO's, feature the concept of social search, and in fact are completely designed around this idea, it's increasingly clear that people-centric design is where the future of intranets lies.
Social network functionality
The article Cutting through the hype of social media explained why it's vital to look at the mechanics and utility of new technologies and apply those mechanics to specific problems in a business. This is opposed to testing and implementing technology for the sake of it.
Facebook is the most obvious and analogous example of a collaborative corporate directory on the Web. With over half a billion users, Facebook is also the biggest people directory in the world, by a factor of many. Fifty per cent of all active internet users have a Facebook account.
The idea of a 'corporate Facebook' can still seem wrong
Yet, the idea of a 'corporate Facebook' can still seem wrong and out of place in a business environment. Indeed, Facebook is banned or blocked in many workplaces, seen as a frivolous application that hampers productivity and sucks up time.
How can such a seemingly non-work concept be feasible for business?
What actually is Facebook?
If we're looking at the tools it provides, Facebook's core functionality is highly desirable in the workplace. Facebook is:
A hyper-dynamic people directory: You can search, sort and find half a billion people, and if they're on Facebook and want to be found, you can usually find the exact person you're looking for.
An incredibly intelligent, accurate, semantic, social search engine: Underpinning the people search is a powerful search engine that picks up other pages with great accuracy.
The world's most valuable database: Supporting the first two points, Facebook's database is one of the most valuable pieces of information in the world.
A powerful relevance engine: Suggested friends, suggested pages, suggested services, contextual advertising. Although this feature is weak in comparison to others, it's still far more powerful than anything you'll see in a current enterprise environment.
A digital asset management tool: upload images, video, documents and links. Tag them, make them easily searchable, accessed and viewed.
An application centre: fully integrated, and natively coded applications. Thousands of them.
A short messaging service: Goodbye email?
A collaborative space: set up events and services pages, advertise, collaborate, find like-minded people.
A rich user interface: A wide range of the latest coding tools and programming languages are used to create Facebook's user interface.
And many, many more features that, when you consider their mechanics, have incredible potential in the workplace. Excitingly, we're beginning to see such ideas emerge in businesses large and small.
Going social at the Audit Office of NSW
At the Audit Office of New South Wales, the opportunity to deliver a new intranet meant an opportunity to deliver a feature-rich, cross-linked staff directory that enabled the Office's remote workers — 80 per cent of staff — to remain in touch with their colleagues.
The new Audit Office intranet, branded as Alfie, is designed from the ground up as a social intranet, with a focus on people, integrated functionality and useful, governed (ISO-accredited) audit practice content.
Alfie provides:
A profile page for each member of staff, featuring photo, contact information, team, expertise and interests.
Presence/awareness indicators: Integrated with an instant messenger application. Profile pages also display staff presence with green or grey buttons indicating whether a person is on or offline, or unavailable.
Robust enterprise search: one search tool searches profile pages and content pages.
Integrated applications: tools such as the document management system are fully integrated with the intranet, allowing users to search and click on document links that open in a seamless and fast process.
Poor data is the biggest barrier to a successful directory
Constrained by poor data?
The biggest barrier to a powerful directory is the data it's built on, and this is a more significant problem than many people realise. In fact, it's staggering to see how poor the employee data is in most organisations. This raises the question: if basic data is hard to keep accurate, how can a business expect to effectively develop a social network-style application, with many more data fields and increased chances of inaccuracies? Some steps to consider include.
Identify the data entry and exit points: which team is responsible for the input, maintenance and deletion of basic staff data when an employee joins or leaves the organisation? In reality, this will be a process involving several teams — HR, IT, the manager doing the recruiting etc.
The true lack of ownership around this process is a major factor in producing poor employee data in the directory's database. Map out the process and work with those involved to develop a comprehensive governance procedure that ensures data is entered, maintained, and removed in a timely fashion.
Encourage and reward staff contributions: this is easier said than done. Strategically, having high data integrity and an enriched directory is necessary before any grander online collaborative and social concepts can take hold. Make the development of the directory a priority. Encourage employees to contribute and build their profiles, and reward them for doing so, perhaps using gaming mechanics similar to the way Sabre Travel Studios saw success with Sabre Town (also featured in the Intranet Innovations bundle and the article Enhancing the intranet with game theory).
Lead from the top: of course, there are few better ways of securing widespread support for business technology than to get the senior management team demonstrating what they want to see from their employees. If a CEO has a great profile page, and is active in supplying updates and information on their activities, it's far less of a leap for other staff to begin doing the same.
Focus on the future
To summarise, the traditional staff or corporate directory is the key to unlocking the intranet as a social, collaborative hub. It should be the starting point for any intranet overhaul, redesign, or new build, and it's already the killer application in most organisations. If you want to design an intranet for the future, focus on the directory.