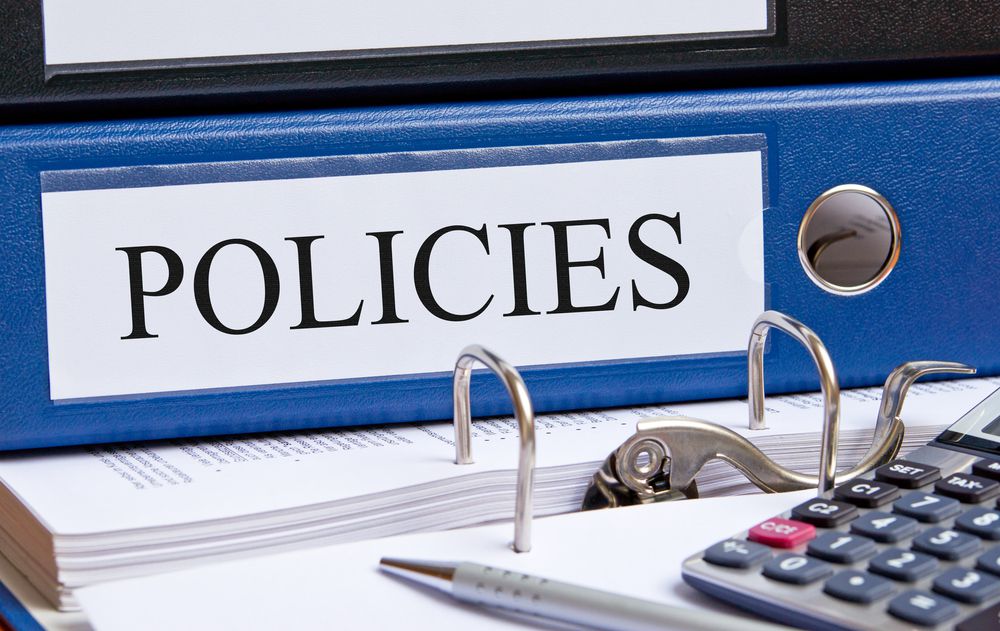 Designing an intranet's policy section

BEST PRACTICE ARTICLE
Written by: Catherine Grenfell




Filed under: Articles, Intranets
Every intranet includes some of the organisation's policies and procedures. This article outlines the common ways to collate and share this information. We will cover:
different navigation methods
examples of layout for content pages
best practices for improving the experience for staff
Policies and procedures are important information, and may apply over the whole organisation, specific geographic regions or business groups. While policies set out the organisation's frameworks and principles, procedures tell staff exactly how to carry out operational and administrative functions.
These documents provide a clear basis for staff to operate in their organisation. They may be created in different departments throughout the organisation and apply to a huge range of topics, from car leasing to IT security and everything in between.
Like all the content on the intranet, the information needs to be trusted by staff to be valued. This is even more important for authoritative information such as policies and procedures. One way of enhancing trust is to include an owner's name and position, the last revised date and where to go for more information
The source for policies and procedures may be another organisational system such as HR or document management system. This can be an excellent method for ensuring the latest correct information is used. However work still needs to be done to ensure useful integration of this information into the intranet.
Accurate, usable policies enhance trust in the intranet
Finding
Having a single place to find policies and procedures quickly and easily in an organisation is important to staff. Intranets are an ideal place for providing the most up-to-date policies and procedures There are a few common methods staff use for finding this information on an intranet including:
navigation
search
links or bookmarks
Different staff will use different methods depending on their previous experience with the intranet and their personal discovery preferences. Methods will also be influenced by the number of policies and procedures available on the intranet and how often they are used.
Staff also expect all policies and procedures to be available but this is not always the case. Expectations need to be managed.
Navigation
The most common navigation option is a top-level global navigation to access policies, forms and procedures. This can be labelled in a number of different ways including:
Policies and forms
Policies
Resources
Like all good navigation items the label needs to make sense in context of the other options and to your staff and organisation.
Refer to our earlier article, Information scent: helping people find the content they want.
Generally the main navigation item leads to a landing page that classifies the information in a number of possible ways by:
A-Z – an alphabetical list by title
department – by ownership
task – by subject or interest
Or the landing page may be a combination of A-Z, department and task. The most common method used is by task, as this is more intuitive for staff.
Working out the best task groupings and how to craft the context on the page can be done with tried and true usability methods. The most common methods employed are:
Card sorting – grouping the policies, forms and procedures into logical task areas
Tree testing – (formerly called card-based classification evaluation) to test the draft structure
Scenario testing – to determine the overall effectiveness of the landing page
These techniques are covered in an earlier article Tree testing for effective navigation, and a more detailed approach is outlined in our book Designing intranets: creating sites that work:
www.steptwo.com.au/products/designing-intranets
Creating a balanced landing page that does not have too much text but ensures the right amount of context is tricky. This section of the intranet will require design effort and testing.
Some of the main decisions to be made include:
labels to include full name of policy or abbreviation
indicators of draft or approved status
introductory text on what can be found in various groupings
Search
Many intranets will include a specific search section on the policies landing page. It may also be useful to include the section the policy is part of in the results to give context through information scent.
Best practice here is to ensure that search results indicate the difference between a content page, PDF attachment or other type of link.
Content page layout
Presenting the policy, form or procedure in a usable format is essential. The ideal is fully functional HTML pages, which make it possible for staff to fill in the form, or follow the procedure without fuss and are easier to search. However the information may exist in Word documents, PDFs or some other format.
Regardless of the source, intranet teams need to decide how to best present the information on the intranet for staff.
PDFs on the intranet can be a contentious question for many intranet teams.
PDFs are useful if staff need to print out longer documents.
However, PDFs are damaging to the staff experience if they:
are slower to load than a content page
provide a different user experience by losing standard browser commands such the back button
open on-screen with small fonts that staff do not know how to change
break the flow of using the intranet
need tagging to be able to navigate and search within
Refer to our earlier article What intranet content should be in PDF format.
For longer policies or procedures that need to be printed, PDFs may need to be provided. However providing only PDFs can be painful for staff. In our experience, intranet teams should be aiming, wherever possible, to simplify processes and speed up access to information on the intranet.
Good information pages will also include:
an introductory paragraph to summarise the policy
the name of a contact person or department
links to related pages
headings to break up text and improve readability
links where relevant
visuals, but only when they enhance understanding
Staff are generally used to scrolling, but long pages do require links at the top of the page to the various sections. Some intranets present long policies over several pages, but to do this successfully, intranet teams need to ensure that:
page content loads quickly enough to be useful
there is enough context on each page to indicate that it is a 'part' of a larger policy
extra navigation is included if policies run over many pages
Refer to our earlier article Helping intranet authors write quality content.
Forms
Many policies or procedures are supported by forms, both online and in printed format. Availability of forms should be considered when designing policy sections.
One simple solution adopted is to use a table format to link relevant sources of information from disparate systems and formats.
Linking with external systems
Many intranets source information from other systems, such as document management systems.
This can be a great way of ensuring that the correct information is always available on the intranet. However if only a link is provided, staff will encounter the same negatives as when working with PDFs. When intranet integration with other systems is being proposed, it's wise to consider:
a clear visual indicator that the link will go to another system
problems that might arise if information has restricted access
staff annoyance if further sign in is requested
One step further
CRS Australia has recently implemented a 'Just in time content' concept on its corporate intranet, CRSNet.
'Just in time content' automatically alerts users to the existence of documents associated with key business tasks, but only if those users have not yet viewed that content. Further more, the content is presented while the user is actually performing the online task, with the notification mechanism embedded within the intranet's online forms and applications.
Simply put, with 'Just in time content', users performing key business tasks on the corporate intranet are made aware of supporting content at the very moment they require it.
The intranet knows if it is the first time a person has visited the page and displays relevant associated information, for example providing the travel policy if the staff member is booking travel. Great for new starters.
Summary
Every intranet needs to deliver some policies, forms or procedures. Successful intranet teams put effort into what will work best for staff. Testing and refining this crucial part of the intranet will improve both usability and trust in your intranet.