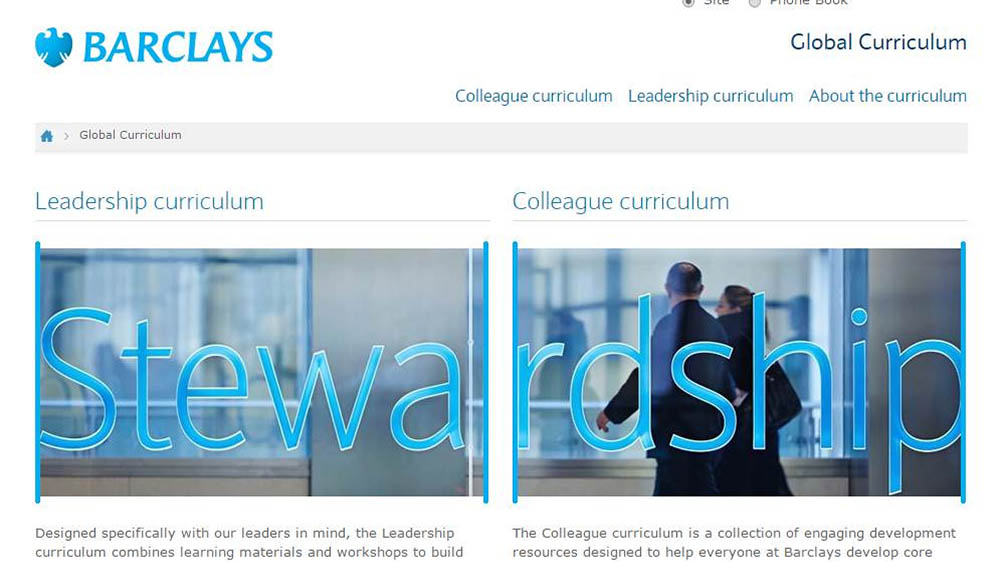 Intranet Innovations 2015: key themes from this year's awards

BEST PRACTICE ARTICLE
Filed under: Digital workplace, Intranet and digital workplace awards, Intranets, Latest Features
The 2015 Intranet Innovation Awards proved once again that leading-edge intranets are having a successful impact for both organisations and employees, with a range of great ideas on show.
Now in its ninth year, the competition run by Step Two celebrates the most innovative intranets from around the world. This year we received over 50 entries, with a very high standard of submissions.
The range of entries showed that intranet design and functionality are both strong while intranet and digital teams are continuing to show high levels of professionalism. Further, intranets are increasingly ambitious and deliver more than ever before.
This year we awarded:
Ten gold award winners: Barclays Bank (UK), BNY Mellon (USA), Bureau National Ombudsman (Netherlands), Danske Bank (Denmark), GSK (UK), HEINEKEN (Netherlands), Prestige Financial (USA), Robin Partington & Partners (UK), Singapore Management University (Singapore), SPIE-ICS (Netherlands)
Eight commended entries: BGC Engineering (Canada), Centrica (UK), City of West Torrens (Australia), Deutsche Telekom (Germany), Fish & Richardson (USA), MITRE (USA), Repsol (Spain) and TAFE Queensland (Australia).
The successful submissions give us an indication of the direction of travel for leading-edge intranets. This article explores six key themes evident in this year's entries.
18 case studies, 200 screen shots!
The full annual Intranet Innovations 2015 report features detailed case studies of all 18 winning and commended entries and around 200 intranet screen shots of the sites in question. At $89 it's exceptional value, helping to both inform and inspire intranet teams. Report sales also support the effort it takes us to keep on running the Awards.
Obtain the report from our online store.
(If you're new to the Awards, obtain the bundle of reports, providing all nine years of winners for just $100 extra.)
Smaller organisations deliver great intranets too
A combination of the growing professionalism within intranet teams and more sophisticated products from vendors has meant that great intranets are potentially available to all organisations, regardless of size and budget. Even a small organisation in a sector where budgets are tight can now deliver an intranet that can bring real value to employees.
Innovation in the intranet space is frequently about applying new ideas rather than level of spend. Indeed, it can be easier to innovate in a smaller, more flexible company than in a large corporation.
Leading entries in this year's Intranet Innovation Awards came from both large and small organisations. There were excellent intranet implementations from a global oil company, Repsol, and a small local council in Queensland, Australia. The latter has only 300 employees, yet had a beautiful, simple design, was optimised for mobile, had some integration of systems and had social features.
There were also great intranet implementations from higher education, a sector where budgets are often constrained. Singapore Management University's new staff intranet had an ambitious scope covering publishing, collaboration, mobile optimisation, personalisation, customisable interfaces and some integrated employee services. Additional innovative features included integration of website content and an automated newsletter featuring new joiners.
Also in the education sector, the newly-formed organisation TAFE Queensland used an intranet with a sleek modern design to drive a one-company culture. Great intranets are no longer exclusive to a particular sector or organisational size.
Digital workplaces aren't constrained by an intranet mindset
The thinking behind a traditional intranet and a digital workplace is different. A digital workplace is broader in scope and does not come with preconditions about what it is and does, other than delivering an environment where employees do their work.
While most modern intranet implementations are successfully focused on user needs, they can be constrained by 'legacy thinking'. There may be prevailing views from stakeholders or among the project team on what an intranet should deliver and look like. There can be an unconscious replication of what has gone before.  This 'traditional intranet' mindset dampens ambition and can limit an intranet's potential.
But it doesn't have to be like that. Robin Partington & Partners (RPP), a small innovative architectural practice, lives and breathes design. Over three years, RPP has built a custom digital workplace piece-by-piece, strongly reflecting that culture of design and the way individuals work.
The intranet covers everything from time management to project management, HR processes, financial management, collaboration and communication, with systems integrated where they need to be. The design is rich, compelling and unusual, reflecting a high level of input from individual architects.
There is a refreshing lack of legacy thinking on the scope, use or design. At RPP they saw a clear user need and knew what they wanted to achieve, so they built something. And then they built a little more, and a little more, gradually creating a beautiful digital workplace.
Meanwhile, Prestige Financial also delivered a true digital workplace for its marketing representatives. By exposing all the customer data they needed in the intranet, and making it highly accessible through innovative search features and mobile optimisation, processes were dramatically improved.
Organisations are reimagining the way they resource teams
A classic intranet use case has been the ability to locate subject matter experts within an organisation, allowing employees to answer key questions and resource teams and projects.  However, experts often do not declare their knowledge areas on their employee profiles, or fail to keep this information up to date.
Some leading intranets are now looking at this issue from a different perspective, taking inspiration from external social media channels and applying this to the enterprise. This fresh thinking is delivering effective and innovative ways of locating experts inside organisations.
Endorsing other people for areas of knowledge is a key component on platforms like LinkedIn, but it has seldom been applied in a structured way to describe subject matter experts inside organisations.
Rather than individuals declaring their own areas of expertise, SPIE-ICS in the Netherlands uses endorsements by fellow employees to derive knowledge areas on user profiles. Using a variety of techniques such as wizards, gamification and strong design, the approach has led to almost all employees having their expertise described. This has revolutionised the way SPIE-ICS matches experts to client assignments, resulting in higher revenue.
Meanwhile, the team at BCG Engineering looked to platforms like Upwork and Freelancer, which match up freelance resources to projects, for their inspiration. The company's Hands Up app, delivered via the intranet, addresses the issue of short term resourcing.  Project teams needing help declare their needs and individuals declare their availability. This lightweight approach has not only meant that project teams are able to meet their deadlines, but it has led to more billable hours and the creation of connections.
Enterprise mobility has hit a speed bump
Since 2011, the pace of change in the enterprise mobility space has been at best underwhelming and at worst, positively tortoise-like. The situation is baffling, considering the opportunities to innovate in this space and to improve processes and user experience. Enterprises are more than willing to use mobile imaginatively in the consumer space, but are seemingly not prepared to invest in a mobile workplace for their employees.
It is incorrect to say there is no movement at all in the mobile space. There are some great intranets optimised for mobile through responsive design, including Prestige Financial's intranet, supporting the needs of sales staff both in the office and on the road.  There are also some good mobile-enabled versions of previous innovations. For example, Fish & Richardson's iOutlaw application gave attorneys access to a host of legal and project resources on their tablets.  There are also some very good mobile implementations focusing on internal communications and a desire to reach out to employees based in factories or distribution centres.
While these efforts were very well executed, few are taking advantage of the native features of devices or using mobility as the focus for the innovation.
There are multiple reasons why enterprise mobility appears to have stalled. Concerns over risks, a focus on office-based rather than frontline staff, and no overall ownership of enterprise mobility are all likely to be factors. So far, intranet teams have proved to be peripheral to enterprise mobility initiatives, and this shouldn't be the case. Hopefully next year we will get more compelling entries that leverage the power and possibilities of mobile.
Internal and external channels are converging
In recent years the blurring of internal and external digital channels has been gathering momentum. Intranets are no longer just internally focused, both in terms of content and audience. External content from organisations, in the form of social media feeds or website content, is increasingly being shown on the intranet. This drives awareness of marketing messages and campaigns, as well as supporting employee advocacy.
In some cases employees are encouraged to share content via social media channels. Other external content that is important for different roles is also being driven through the intranet.
There are also some channels that are half intranet, half corporate website. These are open about employee activities. While these are internally focused, they are also viewable by the public, supporting a company's brand and employment propositions.
An example of this is HEINEKEN's Green Room. A truly innovative digital channel, it features stories focusing on employees, filmed by voluntary reporters. Although stories are aimed at an internal audience, 70 per cent of content can be viewed by the public on the internet at http://greenroom.heineken.com/. This drives transparency and has led to impressive numbers of employees sharing stories via social media.
Meanwhile, one of the four pillars behind the new digital workplace at the National Ombudsman of the Netherlands was 'Inside out and Outside In'. This initiative aimed to support the workforce dealing with government complaints. Details of external content about trending issues are woven together with internal structured content, Yammer threads and the organisation's official external statements. The mix of internal and external content gives employees a full picture of issues to support their important work with the public.
Central teams empower site managers by innovating
Intranets in both large and small organisations are taking a decentralised approach to publishing and collaboration. Communities of site managers or community managers are being empowered and engaged to run their own sites using a variety of support approaches from the central intranet team. The way central teams support these networks is a balancing act between central and local need, helping to maintain standards and establish governance.
Central support for site managers is an area that has seldom seen innovation. However, some central intranet teams are now creatively rethinking the way they interact with these communities. They are succeeding in improving intranets, engaging site managers and firming up governance through an ingenious mix of approaches, tools and communications.
Global pharmaceutical firm GSK pulled off the rare trick of making hundreds of departmental sites brand-compliant with a decentralised approach. Previously, there had been a lack of governance on the intranet but the team defined a new brand template and accompanying self-service approach to deliver improved, brand-compliant sites. The template had enough flexibility to keep site managers engaged by giving them some choices over design, but also established a firm baseline to enact central changes to all sites in the future.
The accompanying change management effort was also well thought out, with virtual training sessions and a PowerPoint tool that allowed site managers to design and visualise their new site. Resources were also designed for external parties. The results have been millions of dollars saved in costs and an improved intranet.
Enter the 2016 awards!
We'll be running the Intranet Innovation Awards again next year. If you're doing something exciting with your intranet or digital workplace we'd love to receive your entry when we open for submissions in April 2016.
Sign yourself up to be informed
when we open the Awards for submissions (we won't use your details for any other purpose):