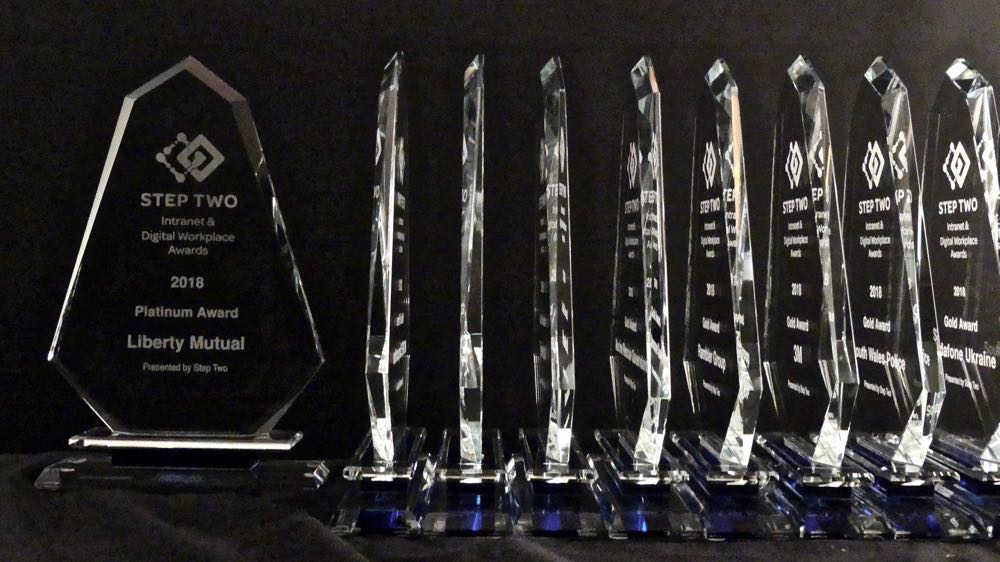 Five highlights from the 2023 Intranet and Digital Workplace Awards

BEST PRACTICE ARTICLE
Filed under: Digital employee experience, Digital workplace, Intranet and digital workplace awards, Intranets
In 2023, intranets, digital workplaces and digital employee experience (DEX) continue to play a critical role in supporting employees in their roles and daily work. 
They help employees get things done, stay informed and be productive. They enable collaboration, nurture organisational culture and even improve customer service. Investing in digital workplace technologies is a strategic choice that brings many benefits. Hybrid and remote working patterns are still evolving, but both intranets and digital workplaces enable the successful ability to work from anywhere.
The 2023 Intranet and Digital Workplace Awards show the very latest trends in intranets and digital workplaces. They confirm that digital employee experience continues to move forward. As in previous years, we received entries from all around the world. Entries covered the full range of organisations of different sizes, from different sectors and in different territories. Significantly, the general standard of submissions remains as strong as ever.
Full details including hundreds of screenshots can be found in the Intranet & Digital Workplace Showcase report.
Here's six of the key highlights:
1. Personalisation fuels complex, global intranets
Global and complex organisations have extremely diverse workforces across divisions, locations, roles and backgrounds. Any intranet that serves a complex organisation must use personalisation and content targeting to deliver a relevant and valuable experience, or risk low adoption.
Intranet teams in leading global organisations are spending time getting personalisation by ensuring profile data is complete, and then targeting content and experiences across multiple parts of the intranet, often at increasing levels of granularity.
Electrolux is a large global business with many locations across the world. Personalisation and targeting are critical in the intranet, with news, links and relevant local information all targeted on the homepage. A 'My Stuff' page has extensive personalised information on it, while individual areas of the intranet, such as travel pages, have a mixture of global and local targeted content on the same page, presenting an overall, seamless experience.
The extensive use of personalisation is driven by a user-centric approach that recognises that targeted information and content is more useful and valuable to the user.
Marsh McLennan is a complex global consultancy operating across four main business units, each of which has its own distinctive brand. The company serves 120 countries.
The new intranet uses personalisation to deliver business unit level news on the homepage as well as other related content. Personalisation is based on data from Workday, as well as Azure Active Directory groups, to ensure targeted experiences are highly relevant.
Targeting is also used to strong effect. For example, a 'Find Support' feature for users to reach out to different teams for help is targeted, so the list of contacts is relevant to each user. Promoted links in search and answers in the embedded chatbot are also targeted. In high-value features such as these, personalisation makes all the difference.
BCD Travel is another global company with employees based in multiple countries. The intranet team has invested heavily in driving a personalised experience, targeting both the navigation and homepage, based on region and country. Some countries also post content in different languages. The team considers personalisation one of the reasons the intranet has flourished, achieving strong adoption and very high user satisfaction.
At Cox Communications, the new CoxOne intranet is also heavily personalised. News stories, the homepage, the navigation and specific sections of the site include experiences and content targeted to high-value audiences based on region, market, role, business unit, department, and functional area. Content is personalised, based on employee data, plus additional topics and teams a user can voluntarily follow.
2. Better accessibility makes intranets more inclusive
Diversity, Equity & Inclusion (DE&I) is a focus area for many organisations. Intranets play a role by supporting relevant communications, campaigns, and affinity groups. A commitment to DE&I also means an intranet needs to be accessible to employees living with disabilities.
Modern intranets and digital workplaces are increasingly becoming more accessible. They are aiming to be compliant with the WCAG 2.1 guidelines on accessibility, frequently to the AA level. This means they support assistive approaches such as screen readers, and allow navigation just by using a keyboard.
An accessible intranet means all employees can access your content, leads to improved usability for everyone, and can also ensure compliance if there is a related legal or regulatory requirement.
Leading intranet teams are going above and beyond to support accessibility. At Marsh McLennan, the team developed specialist accessibility training for content owners and developers involved in the new intranet. The training was designed to foster empathy with those who rely on assistive technologies, rather than be a 'tick the box' exercise. An Accessibility Working Group also meets regularly.
The new intranet has multiple features to support accessibility and any new web parts developed have accessibility baked in.
This includes keyboard navigation, semantic HTML and ARIA (Accessible Rich Internet Applications) to better support screen readers, accessible forms and text resizing options. The team also follows good practices such as using closed captioning, and ensuring alt text is used for images.
At UK public sector organisation NatureScot, there is a legal requirement to ensure the intranet is accessible. The intranet team worked with members of members of NatureScot's Disability, Ability, Wellbeing and Neurodiversity Network (DAWNN) and involved them in user testing. This identified a need to improve accessibility.
This led to the introduction of new accessibility features. Working alongside their vendor, the team developed an 'accessibility mode' which can be toggled to allow support for assistive technologies. It also means the intranet can be navigated by keyboard only and offers choices over text size. A navigation breadcrumb web part was also created, meaning that pages accessed via multiple categories and topics retain their breadcrumbs, a step that also improves general usability.
The team also introduced Microsoft Stream so that events had transcripts and were more accessible, achieving an aim to run accessible events, capturing accessible content, viewed through accessible channels and technologies.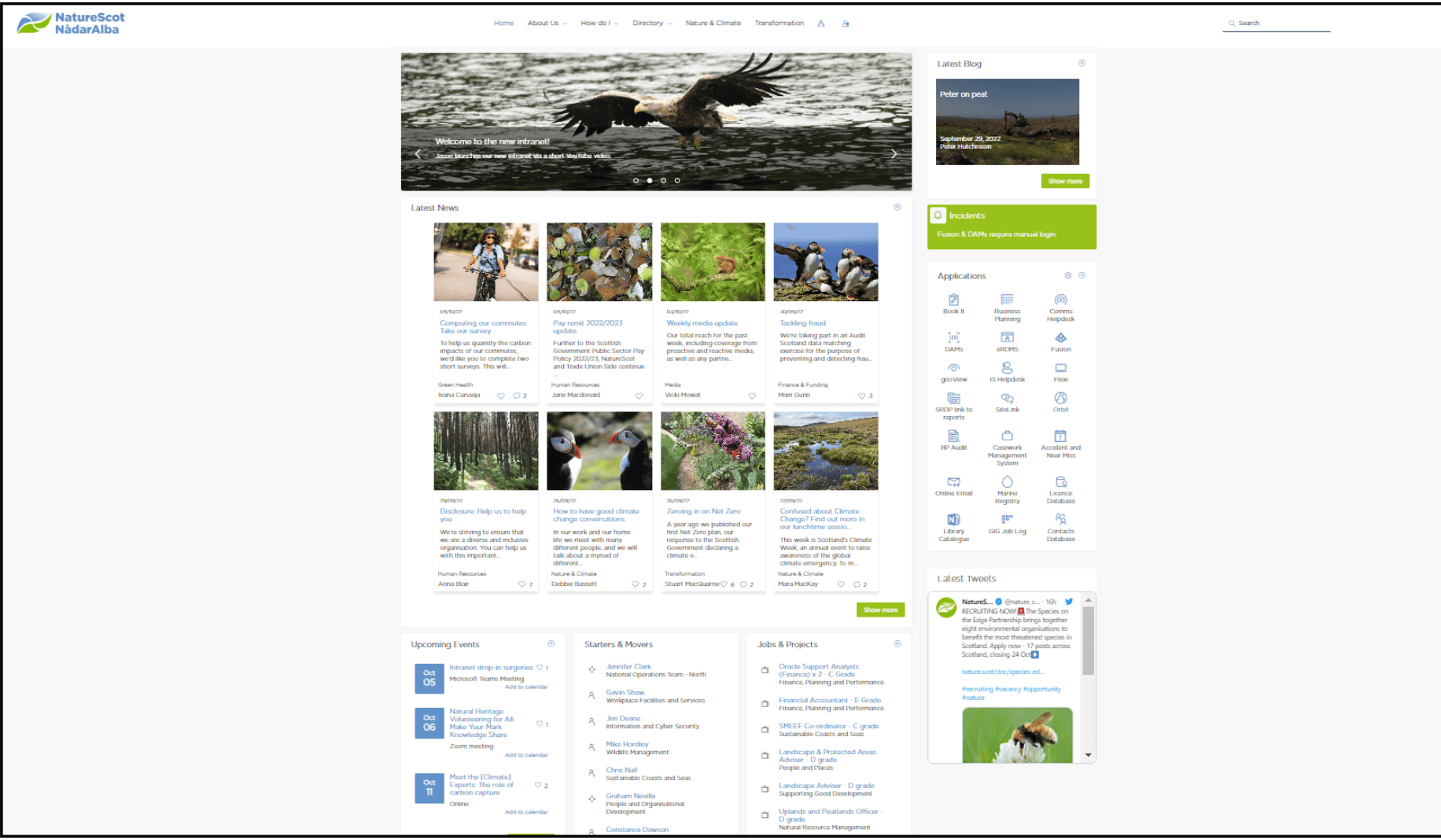 The homepage of the NatureScot intranet. Screenshot appears courtesy of NatureScot.
3. Knowledge management reaps rewards
Knowledge management (KM) has been around since the nineties, and it continues to offer a valuable set of tools and approaches that make a difference to the way people work. Today, leading organisations are putting KM into action and producing excellent outcomes.
KM leverages digital workplace technologies and tools to make it happen, but it is fundamentally about people and changing behaviours. Organisations that execute successful KM programs are using the digital workplace in imaginative ways to provide easier access to knowledge and encourage participation.
Architectural firm Perkins Eastman's KM team runs an innovative mentoring program with remarkable results. The 'PEople program' pairs mentors and mentees across global locations. Using a customised SharePoint site and a network of voluntary 'mentoring champions', the program has incredibly high levels of adoption with 73% of employees participating.
The team has used the digital workplace in innovative ways to facilitate participation and support the mentoring process. This includes a consumer-like interface for mentees to select would-be mentors from a directory through a 'shopping cart'. The team also used the Gather Town virtual collaboration platform for potential mentoring pairs to meet, in a 'speed-dating' style event.
The many benefits experienced from the PEople program include increased networking, knowledge sharing, opportunities for personal growth, increased employee engagement, and a positive contribution to the firm's organisational culture.
KM tends to be carried out in larger organisations, so to find it embedded in the way people work in a very small organisation with 60 employees is outstanding. LAPOC is a small nuclear laboratory based in Brazil, operating within the Brazilian Nuclear Energy Commission (CNEN). To address a critical loss of knowledge caused by scientists retiring, as well as the need to capture tacit knowledge, LAPOC has been running a KM program for the last five years.
Operating on no budget, it has largely relied on the creative use of free resources, from 'freemium' versions of popular software to external social media. It has made a number of very well-produced videos that capture essential knowledge, including the insights of retirees. QR codes have also been placed within the laboratory, linking to procedural information that can be accessed via smartphones.
Because knowledge is also actively shared outside LAPOC, the KM program has inspired similar approaches across CNEN and the wider nuclear industry in Brazil. It has resulted in many benefits, including reducing critical knowledge loss.
4. Savvy intranet teams are data-driven
Leading intranets and digital workplaces are never finished and the most successful focus on continuous improvement via a data-driven approach. Savvy teams use measures that matter that can then be acted upon to improve intranet performance and engagement with content.
Intranet teams are also innovating with measurement by using smart data visualisations, creating sophisticated dashboards and even experimenting with index scores to engage and support content owners.
The team at Cox Communications is consistently innovating with measurement to improve engagement with intranet content. Initially the team hired a data scientist to analyse high performing content and different data points to define the attributes that led to engagement. This analysis has formed the basis for training and guidance for content owners.
The team has also created an aggregate score called the Engagement Index Score. This is a proprietary calculation by which the CoxOne team measures content performance, and gives the team a standard way to compare engagement with content of different types and aimed at different audiences. The score helps content owners focus on engagement and also sets goals for the communications team.
At the City of Malmö, the team works with analytics to drive intranet improvement, striving to achieve 'analytics-driven excellence' by using metrics dashboards provided by Matomo and Omnia to accurately measure usage and user behaviour on the intranet.
The team is also innovating by using 'impact maps' to improve the intranet. Impact maps express a high-level goal such as 'Creating a smoother working day' and sub-goals such as 'finding things quicker', as well as identifying activities that will help achieve these goals. The maps help to define measurement and guide actions such as page design improvements.
Where the team is really pushing boundaries is by creating a wider impact map that covers the entire digital workplace, with supporting guides for other product owners.
5. Custom solutions generate business value
In recent years IT functions and digital workplace teams have tried to avoid building custom solutions. Customisation requires effort, can lead to technical debt and may make digital workplace solutions less sustainable. Despite this, leading organisations are building custom solutions where more generic business products don't meet their specialist needs.
While customisation is not the norm, in 2023 leading digital workplace teams are reaping real value from custom-built business applications.
At Avanade, in-house teams leveraged their experience in SharePoint to build the 'Template Lab', a custom application that allows users to create a range of configurable, brand-compliant social media templates for both internal and external use.
Although third-party solutions available on the market were reviewed, the team felt that none met the company's needs. Building a custom solution has allowed the team to meet very specific requirements for Avanade's brand guidelines and internal campaigns. The team has improved the solution with additional features, while achieving good levels of adoption in a cost-effective way.
The consultants and analysts at the MITRE Corporation have unique knowledge and search needs, requiring access to valuable knowledge assets that are spread across multiple repositories. With highly specialised needs, it was always unlikely that an off-the-shelf product would meet all their requirements.
Instead the team chose to build a custom solution that incorporates AI and also takes into account new business processes at MITRE. Team members worked closely with users to iterate the solution as they went, creating a bespoke search portal that aggregates sources from multiple places and is truly wrapped around how people at MITRE work.
Get inspiration from 12 great case studies with screenshots
The full 2023 Intranet and Digital Workplaces Showcase report features detailed case studies of all 12 winning entries, each detailed with multiple screen shots of the sites in question. At AU$299/€206/US$210 it's exceptional value, helping to both inform and inspire intranet and digital workplace teams. Report sales also support the effort it takes us to keep on running the Awards (which have no associated fees).
Enter next year!
If you're currently doing great work on your intranet or digital workplace, visit the Awards page, and sign up to be notified when next year's Awards opens for entries in January 2024.