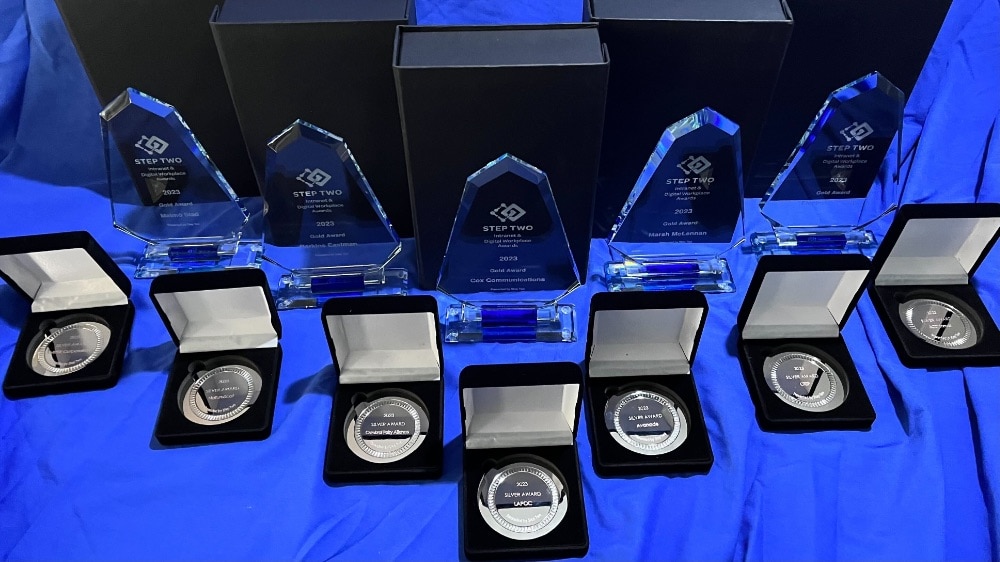 Introducing the 12 winners of the 2023 Intranet and Digital Workplace Awards!
Filed under: Announcements, Intranet and digital workplace awards
Intranets, digital workplaces and digital employee experience (DEX) continue to play an important role in daily work and organisational life, supporting communication, collaboration, flexible working and employee self-service. Organisations continue to choose to invest in digital solutions that help employees stay informed and engaged, improve work processes, and enable new ways of working. Intranets, employees apps and digital workplaces continue to prove their value.
To share leading-edge approaches and inspiring examples, Step Two announces today the winners of the 2023 Intranet & Digital Workplace Awards. Now in their seventeenth year, these are global awards that recognise outstanding contributions to the fields of intranets, digital workplaces and digital employee experience. The awards uncover remarkable solutions that deliver business value, sharing them with the wider community.
Key highlights from this year are:
personalisation fuels complex, global intranets
better accessibility makes intranets inclusive
knowledge management reaps rewards
savvy intranet teams are data-driven
custom solutions generate business value.
Obtain a copy of the 2023 Intranet & Digital Workplace Showcase report for full details on the highlights and winners. You can also browse this year's winners, drilling down to the key case studies you need.
So without further ado, here are details of this year's winners!
Gold winners
The winners across multiple categories (in alphabetic order):
City of Malmö (Sweden): a user-centric intranet that has evolved with strong user engagement and an innovative use of impact maps.
Cox Communications (USA): a SharePoint intranet with innovative, customised features and an advanced approach to measurement.
Electrolux Group (Sweden): an extensive intranet redesign with high levels of personalisation and imaginative approaches to content.
Marsh McLennan (USA): an advanced global intranet serving a highly complex company with excellent approaches to content, accessibility and automation.
Perkins Eastman (USA): an exceptional mentoring program with very high levels of participation and innovative use of digital tools.
Silver winners
The winners across multiple categories (in alphabetic order):
Avanade (USA): an custom solution built on Microsoft 365 technologies that generates brand-compliant social media and web-based assets for employees.
BCD Travel (Netherlands): a world-class intranet with advanced management practices that support content owners, winning an award for the second year running.
Cerebral Palsy Alliance (Australia): a modern intranet based on SharePoint and Viva Connections, with best-practice project methodology and high levels of adoption.
CRIF (Italy): a digital workplace program centred around a new SharePoint intranet, with extensive employee profiles featuring integrations, and workflows powered by Nintex.
LAPOC (Brazil): an inspiring multi-year knowledge management program run by a small nuclear laboratory on almost no budget.
MITRE Corporation (USA): a custom search solution implemented across a number of repositories to support complex knowledge needs and processes.
NatureScot (United Kingdom): a new high performing SharePoint intranet with a project exhibiting many best practices and high levels of user engagement.
Obtain insights from the winners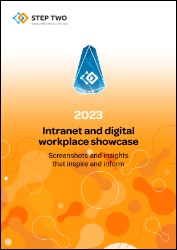 You can browse the winners on the main Awards page, narrowing down to the specific insights you need to succeed.
Then get the full insights into all these winners by obtaining a copy of the 2023 Intranet and Digital Workplace Showcase report. This provides the insights you need, in a format that you can easily dip into as required.
Agency and vendor credits
Congratulations also to the following agencies, consultancies and vendors who were involved in the winning entries:
Core Azure (NatureScot)
Digital Workplace Group (BCD Travel)
Digitalist (City of Malmö)
DIWO (City of Malmö)
Engage Squared (Cerebral Palsy Alliance)
Ethic Works (BCD Travel)
Giuneco (CRIF)
Green Team (CRIF)
inUse (City of Malmö)
Involv (NatureScot)
OpenKnowledge (CRIF)
Paragon (BCD Travel)
Precio Fishbone (City of Malmö, Electrolux Group)v
Prepress Projects (NatureScot)
Rightpoint (Cox Communications)
Rost Studio (Electrolux Group)
Enter next year!
Our congratulations to this year's winners, and many thanks to all the organisations, agencies, teams and individuals that contributed.
You deserve a trophy! If you're currently doing great work on your intranet or digital workplace, visit the Awards page, and sign up to be notified when next year's Awards opens for entries in January 2024.