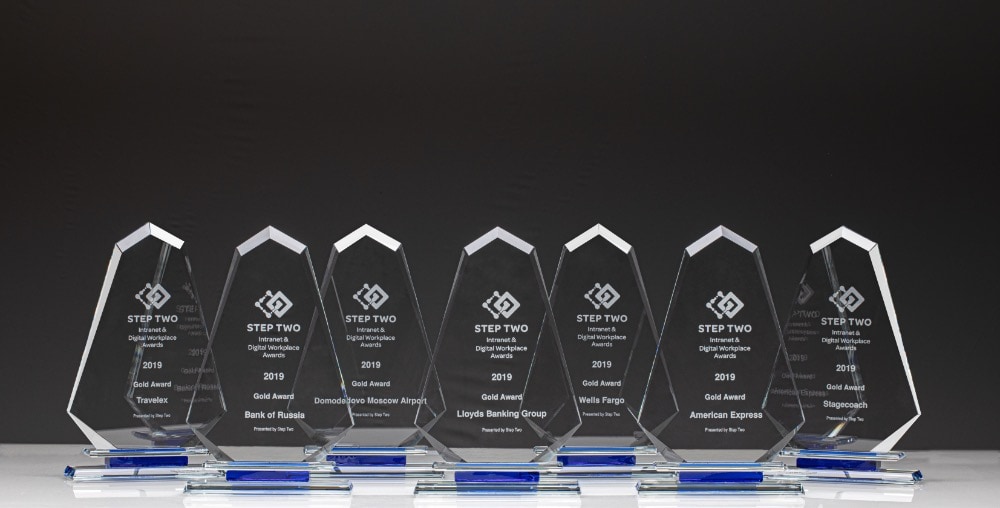 Introducing the 13 winners of the 2020 Intranet and Digital Workplace Awards!
Filed under: Announcements, Intranet and digital workplace awards
Intranets, digital workplaces and digital employee experiences (DEX) have never been more important in supporting employees and the organisations they work for. Employees need solutions that provide accurate information, facilitate robust collaboration, drive increased productivity and support a sense of connection.
To share leading-edge approaches and inspiring examples, Step Two announces today the winners of the 2020 Intranet & Digital Workplace Awards. Now in their fourteenth year, these are global awards that recognise outstanding contributions to the fields of intranets, digital workplaces and digital employee experience. The awards uncover remarkable solutions that deliver business value, sharing them with the wider community.
Key themes to emerge this year are:
democratisation of automation has arrived
integration drives digital employee experience
winners demonstrate SharePoint mastery
empowered communities deliver success
DEX is helping to educate the next generation
governance underpins broader digital success
Obtain a copy of the 2020 Intranet & Digital Workplace Showcase report for full details on the themes and winners. You can also browse this year's winners, drilling down to the key case studies you need.
So without further ado, here are details of this year's winners!
Gold winners
The winners across multiple categories (in alphabetic order):
Amadeus IT Group (Spain): an ambitious global intranet based on SharePoint Online with strong social features and attractive templates, underpinned by a thorough approach to governance.
Avito (Russia): a beautifully-designed HR-focused intranet with extensive integration, helping to automate HR processes (and beyond), resulting in significant time savings.
Brisbane Catholic Education (Australia): a feature-rich and innovative SharePoint Online intranet with multiple integrations including an HR dashboard, accompanied by effective efforts around content governance and author training.
Dept of Agriculture, Water and the Environment (Australia): an innovative data dashboard detailing analytics, engagement, readability and suggestions for every intranet page, using light gamification to encourage content owners to make improvements.
DNV GL (Norway): a custom collaboration wizard built in Microsoft 365, driving self-service and governance across multiple types of collaboration spaces, empowering site owners and improving IT support processes.
New South Wales Dept of Education (Australia): a ground-breaking portal to drive a community of practice around STEM teaching, using pinboard functionality to create and share learning resources with students and other teachers.
SP Group (Singapore): a forward-thinking example of 'citizen development' using the Microsoft Power Platform to automate and transform a process around reporting gas leaks utilising tablets, driving huge efficiencies and all created with minimal IT input.
Wellcome (UK): a modern Drupal-based intranet, featuring beautiful design and user-focused integrations, resulting in very high levels of user contribution, adoption and engagement.
Silver winners
The winners across multiple categories (in alphabetic order):
M.Video Eldorado Group (Russia): an ambitious mobile-first intranet that supports processes standardisation and nurtures a 'one company' culture in a newly-merged large retail firm.
STIHL Australia (Australia): an intranet-based portal to automate the end-to-end process for launching new products that cuts across multiple business functions, successfully driving efficiencies, reducing risk and raising accountability.
Suncorp Group (Australia): a brilliantly-executed governance framework and engagement program, enabling  a large content publisher community to deliver a new high quality, sustainable intranet.
Telstra (Australia): a cyber security team using automation, SharePoint Online and gamification to scale up a awareness program involving champions, doubling it in size with no additional effort or resourcing.
VELUX Group (Denmark): delivering a new global intranet based largely on SharePoint Online out of the box, at a fraction of the normal cost, aided by a mature and highly effective Office 365 adoption program.
Obtain insights from the winners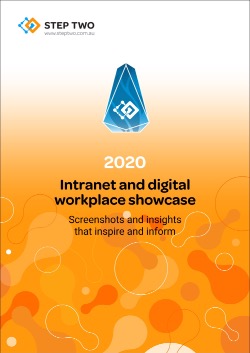 You can browse the winners on the main Awards page, narrowing down to the specific insights you need to succeed.
Then get the full insights into all these winners by obtaining a copy of the 2020 Intranet and Digital Workplace Showcase report. This provides the insights you need, in a format that you can easily dip into as required.
Agency and vendor credits
Congratulations also to the following agencies, consultancies and vendors who were involved in the winning entries:
AmberLabs (M.Video Eldorado Group)
Avanade (VELUX Group)
e-Types (VELUX Group)
Everis (Amadeus IT Group)
Folk (Brisbane Catholic Education)
Microsoft (VELUX Group)
Nexteq (STIHL Australia)
Peter Sullivan (Brisbane Catholic Education)
PiaSys (VELUX Group)
SharePoint Gurus (NSW Dept of Education)
The Cocktail (Amadeus IT Group)
Enter next year!
Our congratulations to this year's winners, and many thanks to all the organisations, agencies, teams and individuals that contributed.
You deserve a trophy! If you're currently doing great work on your intranet or digital workplace, visit the Awards page, and sign up to be notified when next year's Awards opens for entries in January 2021.