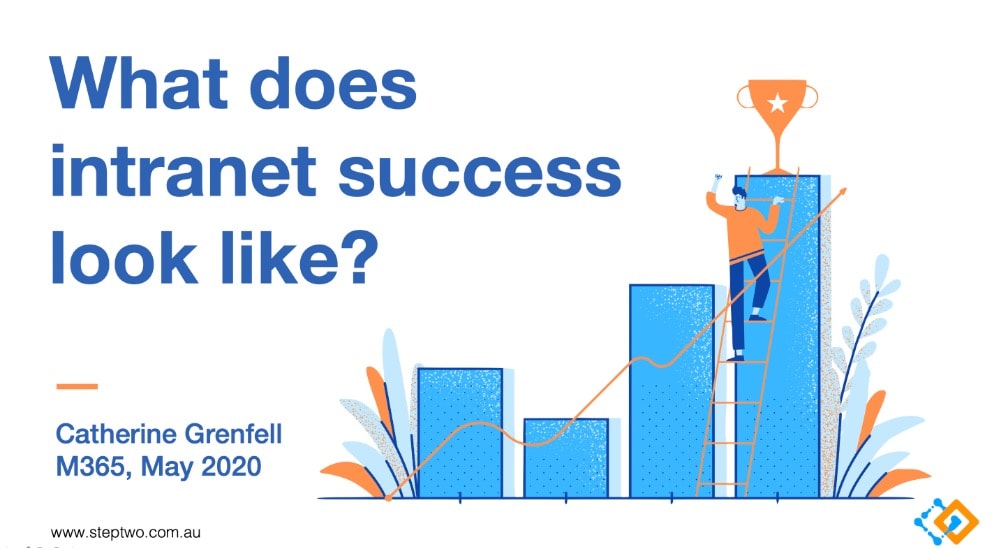 What does intranet success look like? (in Office 365 or SharePoint on-prem)
Filed under: Conferences & presentations, Microsoft 365
May 2020 has seen an extraordinary "event" go live: M365 May, a month-long series of online presentations about Microsoft 365, all organised by volunteers. A massive hat-tip to everyone involved in making it happen, as well to the sponsors who so generously contributed.
Step Two was pleased to have two of our team present, including our one-and-only Catherine Grenfell covering What does intranet success look like?
This session — packed with screenshots — covered a range of important topics, including:
Modern intranets play an important role in organisations, delivering key services, and providing an enterprise front door
An enterprise front door provides a jumping off point to tools and information, as well as giving visibility to what's happening across the digital workplace
What this looks like at Amadeus, a travel-related technology company with 19,000 staff, headquartered in Spain. (screenshots shared)
The five purposes of modern intranets provides a simple framework, covering: content, communication, culture, collaboration and activity.
The global Intranet and Digital Workplace Awards have uncovered and shared the best solutions for 14 years.
BHP, with a workforce of 62,000, has taken a best-practice route to delivering a modern intranet using Office 365 and SharePoint Online. (screenshots)
Duke Energy are the largest power company in US with 47,000 employees. They are a passionate innovator, with an Award-winning SharePoint intranet. (screenshots)
Bank of Russia has 80 offices across Russia, which span 11 timezones (!). Their intranet is both beautiful and highly functional. (screenshots)
We should all be aiming for a modern intranet, as part of a vibrant and effective digital workplace.