Untangling collaboration spaces
Filed under: Collaboration and social
An all-too-common scenario:
Collaboration spaces, such as wikis or SharePoint team areas, have multiplied across the organisation. Now numbering in the thousands, some are hugely successful but many are not. Confusion and pain has oustripped the value offered by the collaboration spaces, and things may be getting worse not better.
How to untangle such a huge mess? What approach can be taken that will address thousands of spaces?
I scribbled the following diagram on a napkin at lunch yesterday, outlining a possible methodology: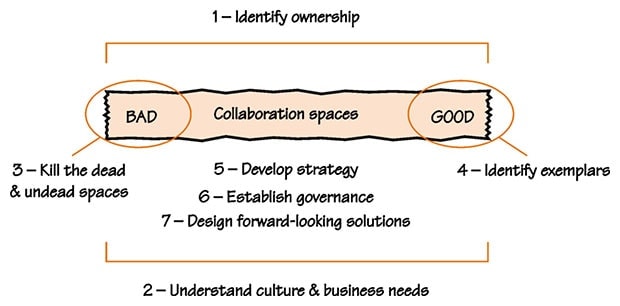 identify ownership
understand culture & business needs
kill the dead & undead spaces
identify exemplars
develop strategy
establish governance
design forward-looking solutions
There's lot's more to spell out, and the diagram probably needs reworking.
My initial questions:
Does this make sense as an approach?
We're thinking of fleshing this out as a consulting methodology, would there be interest in this?