Two streams of SharePoint governance
Filed under: Information management, Intranets, SharePoint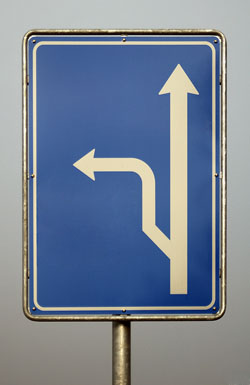 A few weeks back, we were at the Australian SharePoint conference in Melbourne, which was packed with both attendees and vendors. The word of the event was "governance", to the extent that it was starting to be seen as an over-used term.
It's no great surprise that governance is a hot topic for SharePoint. It's a complex technology, with many opportunities for unruly developers to make a mess. SharePoint also tends to spread virally in organisations, with some serious long-term consequences.
What was interesting to observe at the conference is how there are really two separate streams of governance.
Technical governance
This was the focus of most governance discussions at the conference, touching on topics such as:
how requirements are gathered and validated
determining scope and functionality
software development practices
deployment from testing to production
processes for updates and bug fixes
release management
access rights and privileges
server farm configuration and management
use of tools such as SharePoint Designer
backups and disaster recovery
compliance with regulations
With the inherent complexity of the SharePoint platform, and the degree of customisation and development required, it's important to get technical governance right. Talk after talk showed the benefits of taking a disciplined approach to development and deployment, and the costs of not doing so.
Fundamentally, this is about good project management practices, from effective gathering of requirements, through to testing, launch, maintenance and documentation. In other words, standard IT management, but with a SharePoint flavour.
There are a lot of good sources for SharePoint technical governance documents, including from Microsoft.
Business governance
This is only half the story, however. SharePoint isn't deployed as an end goal in its own right, but rather as a tool to deliver one or more business solutions.
Each of these solutions needs governance and management, and this varies greatly depending on what's being delivered.
For example, governance of an intranet includes:
overall ownership and management
processes for involving stakeholders
strategy and planning decisions
role of the intranet in the organisation
information and document management policies
publishing and review processes
design and content standards
overall information architecture
page templates
intranet features and functionality
business benefits and ROI
training and support
decision-making processes
Governance for collaboration spaces is similar but different:
site establishment
site review and closure
available collaboration functionality
selection of appropriate collaboration tools
adoption practices
training in effective collaboration behaviours
codes of conduct
social media policies
alignment between collaboration tools
compliance with regulations
This is governance at the strategic and business level, looking at business requirements and information management practices. It sits above technical governance, but is closely related to it.
While technical governance is a prerequisite for success, business governance ensures that business benefits benefits are realised, and that solutions are sustainable and effective in the long-term. While business governance is mostly agnostic to the underlying technology, it is informed by the specific capabilities of the technology platform (in this case, SharePoint).
We help with business governance
Our role is to help organisations with developing and sustaining effective business governance. We've written a bunch of governance articles, and run public workshops, including one at Intranets2012, coming up in May.
We work closely with teams (and their stakeholders) to establish appropriate policies and processes. In part, this is about creating documents, but it's mostly about setting in place ongoing ways of working that align business and staff needs.
Have you implemented SharePoint, only to discover that what you've also been given is just technical governance? Get in touch, and we'll help you put in place simple but effective business governance.