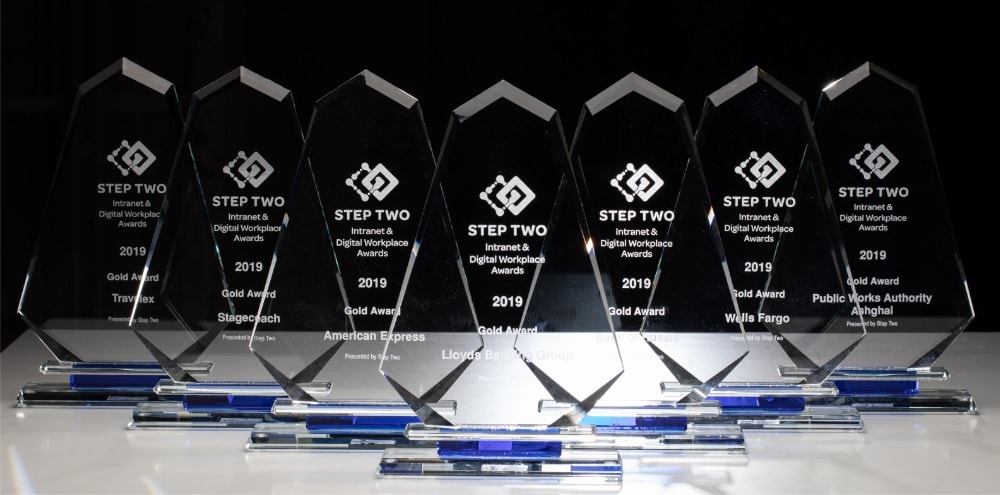 The power of winning an Intranet & Digital Workplace Award
Filed under: Intranet and digital workplace awards
One of the reasons we love running the Intranet & Digital Workplace Awards each year is the positive impact it has on the winning teams. Now in their fourteenth year, these are global awards that recognise outstanding contributions to the fields of intranets and digital workplaces. The awards uncover remarkable solutions that deliver business value, sharing them with the wider community.
Typical positive outcomes winners report include:
internal recognition from senior leaders, peers and users from right across the organisation
external recognition from within the intranet and digital workplace "industry"
career progression – winning an awards is a great thing to put on your CV
invitations to speak at intranet and digital workplace conferences (both in-person and virtual) around the world
more investment in the intranet and digital workplace, supporting the business case
more opportunities to collaborate with other teams within the organisation.
But don't take our word for it, here are some testimonials from some of the 2020 winners:
We have an absolutely amazing feeling from receiving international recognition! Many thanks to Step Two for the opportunity to receive validation and verification of our ideas from the world's best experts in Intranets and Digital workplaces. Also, we want to underline the excellent and friendly processes for participants that we experienced. Our Gold award is so valuable in the difficult conditions of 2020 and the global pandemic. The Avito People team have received a new charge of drive and inspiration for making new achievements.
Yulia Boshova, Head of HR Automation, Avito
Following our strategy to focus on Office 365 and especially by developing new self-services, the Team was thrilled and proud to receive the Intranet & Digital Workplace Award from the Step Two jury this year. It is an opportunity to be recognises internally and now, externally, that our way of tackling the transformation or our digital workplace at DNV GL is going in the right direction. Thanks to the jury to motivate us to continue in that direction. Our Collaboration Wizard which empowers both our colleagues and our IT Support organisation is the first step and we will be more than excited to apply next year with new services!
Krzysztof Kortas, Senior Service Manager, Microsoft Office 365, DNV GL
Winning an Intranet & Digital Workplace Award has not only boosted our confidence and energy as a team, but has also gained us internal recognition and increased trust across many of our stakeholder groups. Step Two was already known by our new executive and held in high regard, so to win an award from the intranet and digital workplace experts themselves has put us in a really good place.
Kristy Long, Suncorp Group
Winning is definitely a good feeling. This is the second application we have submitted in the Step Two Global Intranet & Digital Workplace Awards and the second award we have won for our digital workplace 'The Shed.' A Silver award recognises the efforts of the team for the delivery of a solution that really enhances the way we operate as a business. We don't manufacture here in Australia, we import and distribute product to our 600+ dealer network, so automating the end to end Product Launch Process was ground breaking for our company globally and delivers a best in class solution for the Group. The award has put STIHL Australia on the radar again, and we are in talks with our parent company about the possibility of sharing our award winning solution with others as a full package.
Therese Chakour-West, Director of Technology and Change, STIHL Australia
Receiving this award not only affirms SP's approach in empowering ground-up developments, it also recognises our citizen developers who continuously seek to improve processes and productivity. A great tool truly comes to life when it provides benefits and business insights to users and key stakeholders. Congratulations to all winners.
Tan Lih Hong, Head of Gas Distribution Management, SP Group
The focus of our team was on solving the most pressing problems of our business and employees. And first of all, we were guided by the feedback from our employees. These reviews have not always been positive, but they have been the main source of insight and space for the improvement of our intranet. It is a great honour for us to receive the recognition of the international jury, which coincided with a global update of our solution and positive feedback from company employees and business customers. All this strongly has inspired us to reach new heights and achievements in activating the potential of our employees.
Egor Petrov, Product Owner of EM.Life 2.0, M. Video Eldorado Group
The best part of receiving the Digital Workplace Award from Step Two is the recognition and the actual quotes you get from the judges, as they are all super knowledgeable and globally known for their expertise within the digital workplace area. That being said this award is not only for the user adoption team, but also for all our internal customers that helps and encourage us to constantly push the boundaries of user adoption.
Frederik Zebitz, Collaboration & Change Specialist, VELUX Group
We are very proud to receive recognition for VELUX One. The platform has become our hub for internal information, collaboration and for creating a sense of connection across our companies.
Peter Bang, Executive Director & CFO, VELUX Group
Obtain insights from the winners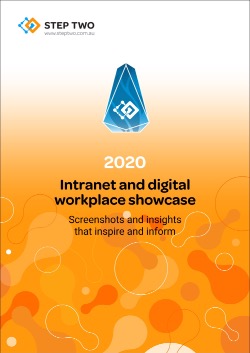 If you want to see why the teams above were worthy of an award, you can browse the winners on the main Awards page, narrowing down to the specific insights you need to succeed.
Then get the full insights into all these winners by obtaining a copy of the 2020 Intranet and Digital Workplace Showcase report. This includes 13 detailed case studies with many screenshots, providing the insights you need, in a format that you can easily dip into as required.
Win a trophy next year!
It could be your name in lights next year, so we encourage you to add yourself to the Awards list. This will be used to notify you when next year's Awards open for entries, and to remind you again before they close: