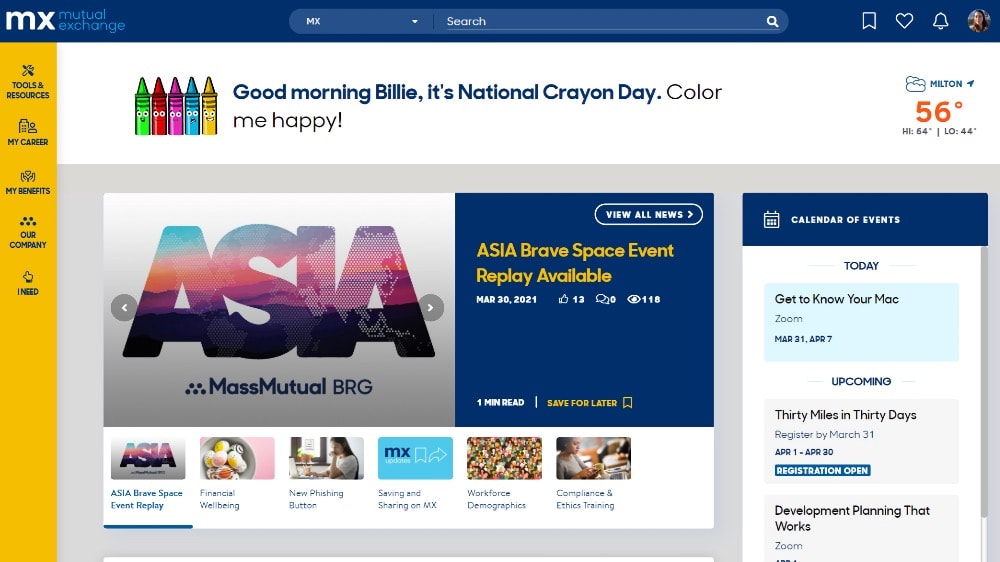 See and hear this year's Award winners at DEX2021 (Sep 1 & 2)
Filed under: Announcements, Conferences & presentations
We recently announced the winners of the 2021 Intranet & Digital Workplace Awards. As always, there is an incredible diversity of ideas, solutions and approaches from around the globe. While we publish a showcase report packed with screenshots, it's always great to be able to dig in and learn more.
This year our annual conference DEX2021 is running in a fully-virtual format on September 1 & 2. With so many important changes happening as we speak, we wanted to run an event for those of us who are unashamedly passionate about designing and delivering great digital employee experiences.
We've now published a program for the two-half days of presentations, and we're pleased to say that we'll have two Award winners presenting, along with an Awards showcase session run by our very own Rebecca Rodgers.
(Note that due to a packed schedule of activities, we won't be presenting any Awards webinars this year, so if you want to see the winners then DEX2021 is the only way to go!)
What you'll see at the conference
First we have Agnes Petiot from IAG, who will be sharing their Award-winning approach to what they've simply called "People Experience". This is a remarkably strategic approach that will resonate with many teams, and we expect it to inspire fresh approaches to digital employee experience in organisations of all shapes and sizes.
We'll also have Jeremy Hor & Mike Soon from Monetary Authority of Singapore presenting on their SharePoint intranet project. Not content to do a 'typical' tech-oriented project, they baked human-centred design into every aspect of the project, and this user-centricity shows in what they've delivered. They also chose to go beyond standard out-of-the-box capabilities to deliver valuable improvements in both desktop and mobile experiences.
And to wrap up the conference we'll have a showcase session presented by our own Rebecca Rodgers. She'll be sharing case studies and screenshots that explore every aspect of digital employee experience. Teaser: the Russian winners are a stand out again this year!
DEX2021 is open for registrations now, and with tickets starting at AU$450 you don't want to miss out!