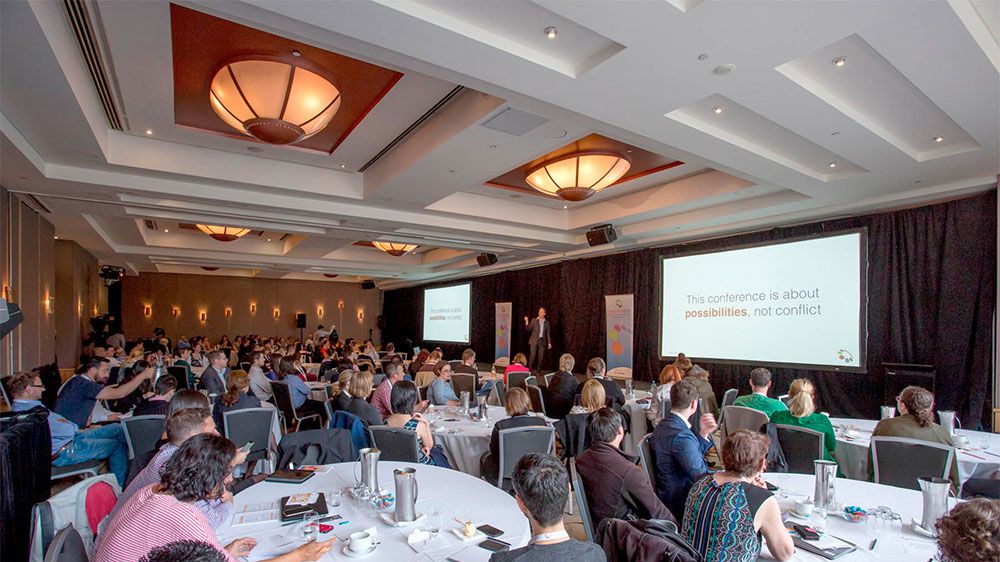 Reflecting on Intranets2015
Filed under: Conferences & presentations, Latest Features
Pencil the date in your diary, Intranets2016 is 1-3 June 2016 in Sydney. While we are looking forward to the next conference, let's take a moment to look back at the conference that was.
This year Intranets2015 brought new intranets, new ideas and a new focus for intranet managers and digital teams.
Future of work
Workplaces are changing, this should come as no surprise. Flexible working, new technologies and new types of organisations are altering the way we work, and as a consequence altering the ways that intranets can help people to do their jobs.
James Robertson opened the conference by setting the scene and wrapped up with a challenge for everyone to choose their winning approach to accelerate their shift to the future of work. The team at Qantas gave us an insight into what this future could look like by sharing their mobile innovations and vision for the future.
A different way of thinking
Michael Sampson's opening keynote reinforced the future of work messaging with practical advice on how to get there. Be more creative, be more collaborative and start looking beyond intranets and beyond our own industries for ideas and inspiration.
This was cleverly reinforced by presentations from Prophet and Ogletree Deakins who used inspiration from websites and social media when creating features for their award winning intranets.
Governance doesn't need to be a dirty word
Many an intranet manager has been scared or stumped by the perils of intranet governance. From the dumping ground that an ungoverned intranet can become, to the bureaucratic wasteland that an over-governed intranet can present, governance is not something that general delights.
Susan Hanley presented a refreshing and exciting perspective on what she called the "G" word. The team at Wintec proved it can work in practice with their staff an integral part of maintaining, improving and building on their intranet.
Intranet folk know how to have fun
As renowned as they are for the excellent content and coffee, the annual Intranets conference in Sydney is known for the great networking opportunities as the conference social event.  Delegates congregated at Madame Tussauds for an evening of waxworks, trivia, headbanging and of course, networking.
To spice things up a bit they indulged in our Twitter competition for intranet relevant waxwork selfies. The results were magnificent and can be found in our #Intranets2015 Twitter Comp Storify.
Want more?
Have a look at the conference presentations and posts to get more about the event:
Sign up to the Step Two Designs newsletter to be the first to know about presentation opportunities and ticket sales for Intranets2016.