Our books are now available on Amazon!
Filed under: Announcements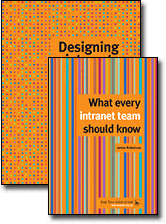 Our two books, Designing intranets: creating sites that work and What every intranet team should know have been bought by organisations across the globe. It's likely that these are the two best-selling intranet books yet written.
While our books are extremely popular, shipping the books from Australia hasn't been ideal. It's slow and expensive, and it's a credit to our customers that they've bought the books regardless.
So it's great to be able to finally say: our books are now available on Amazon!
Stocked in both the US and UK, this makes it much easier for international purchasers to get their hands on the book, and all the usual Amazon benefits apply (Prime, next day shipping, etc). There is also "look in inside" for both books.
Get your copies now:
PS. if you'd like to purchase a bunch of books at once (for stakeholders, students or clients), get in touch and we can arrange a generous discount. Shipping will still be done via Amazon, making it just as quick as buying a single copy.