Our new book is out! Essential intranets: inspiring sites that deliver business value
Filed under: Announcements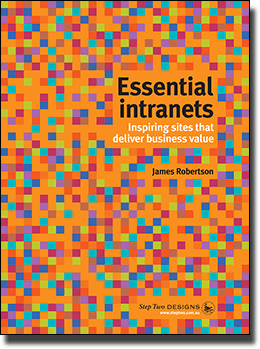 Intranets have been undergoing huge changes in recent years, but the challenge remains to deliver the greatest business benefits. That's what makes the launch of our new book so important:
Essential intranets: inspiring sites that deliver business value
This book demonstrates the power and value of intranets, providing inspiration and insights for all teams, whether new or experienced.
In 280 sharply written pages, this book explores what intranets can do, providing screenshots from great intranets around the globe.
Written by the undisputed global expert on intranets, this is the most important intranet book yet published, and it will reinvigorate intranet discussions around the globe.
It also sits alongside James' two previous books, Designing intranets and What every intranet team should know, which together create an invaluable library for successful teams.
(The book is available in printed and eBook formats. Purchase both: the eBook gives you instant access, while the glorious full-colour screenshots in the printed copy are invaluable when talking with your CIO or CEO.)
A big shout-out to our amazing advisory panel of hands-on intranet practitioners from around the globe. They helped to ensure that every page and example hits the mark.
The book has already made a splash! These are just a few of the many reviews the book has already received:
In Essential Intranets, James Robertson has produced a must-read, must-have book for intranet managers to return to time and again. James consolidates all the ideas you may be just arriving at or questions you may be asking and delivers a concise, insightful resource filled with real world examples that will yank you from the realm of trial and error straight into a state of digital workplace mastery.

I had the privilege of participating on an expert review panel for this book but very shortly into the process my hat of peer analyst was replaced by that of eager learner and I quickly ran out of pithy commentary on the drafts, replaced by private notes-to-self along the lines of "do this immediately", "what a great idea" and "so that's why XYZ isn't working!"

Read the book. Share it with colleagues. Move your practice from good to incredible. Your end-users will adore you for it.

Kirk Grayson (Canada)
If you need to know how to take your intranet to the next level then Essential Intranets is a must read. This book includes a host of examples as to how different companies have made their intranet an essential part of working day life, plus practical information that will aid you with building your business case for future enhancements. A must read for anybody involved with intranets.

Daniella Adams (UK)
Essential intranets, Inspiring sites that deliver business value, is the third book from global Intranet expert James Robertson. This latest publication is essential reading for anyone who manages any sized company Intranet regardless of size or platform.

Through his International network of Digital Workplace professionals, James has pulled together real life examples of Intranet sites that help a diverse range of organisations and their employees work smarter, faster and more effectively.

Essential Intranets is packed with ideas and advise that will provide Intranet inspiration and is an invaluable addition to your Intranet Managers reference library.

Peter Richards (Australia)
Browse our new online store, and further expand your intranet library.