Award-winning intranets engage users throughout the design process
Filed under: Intranet and digital workplace awards, Intranets, Usability
Involving users in the design phase of an intranet or web-based project is not just about gathering requirements and testing designs. It is also provides an excellent opportunity to engage with employees, get them excited about the new intranet and build up momentum before launch.  This can help to raise awareness, leading to better adoption, and ultimately a more successful intranet.
Involving a wide and diverse section of the user population in the design phase can:
accommodate the views and needs of as many types of employee as possible
give invaluable feedback on different stages of design
prove to be an excellent way to create a "buzz" before launch
give employees more a sense of "ownership"of the new intranet
help to create a community of advocates and super-users
Leading intranets often involve users thought the design process, as evidenced by winners and other high-quality entries in to the Intranet Innovation Awards.
One of the aims of the Awards is to showcase examples of successful approaches and practices which can be applied by intranet team within their own organisations. The following sections provide real-world examples from the current crop of award winners and wider entrants:
Get feedback from as many users as possible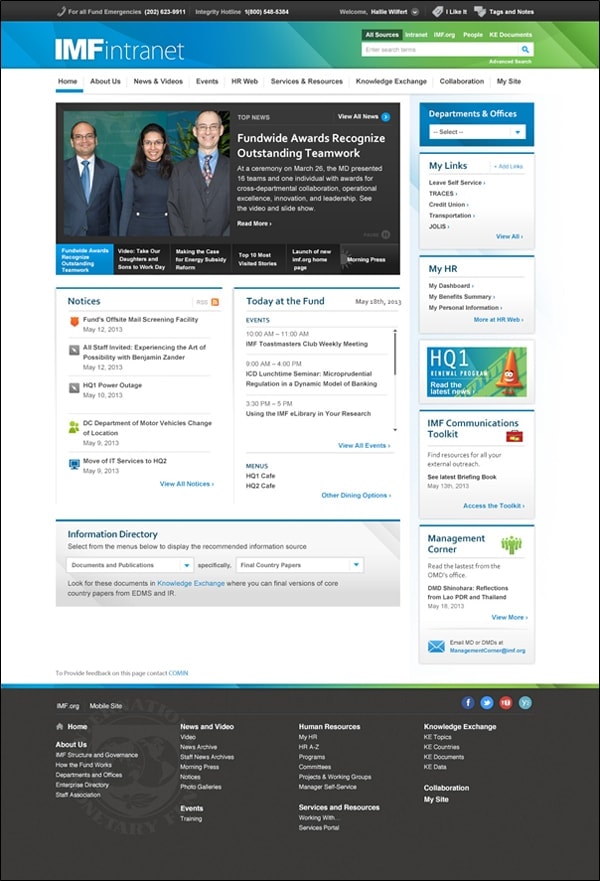 The design phase for the new IMF intranet homepage included an open meeting for all staff. Screenshot courtesy of IMF.
For the International Monetary Fund (IMF)'s intranet redesign, a variety of design workshops were held. Towards the end of the design phase a well-attended open meeting for all staff was held. This showcased the new redesign and resulted in valuable comments and feedback, as well as helping build up momentum to the launch.
Take many opportunities to connect with staff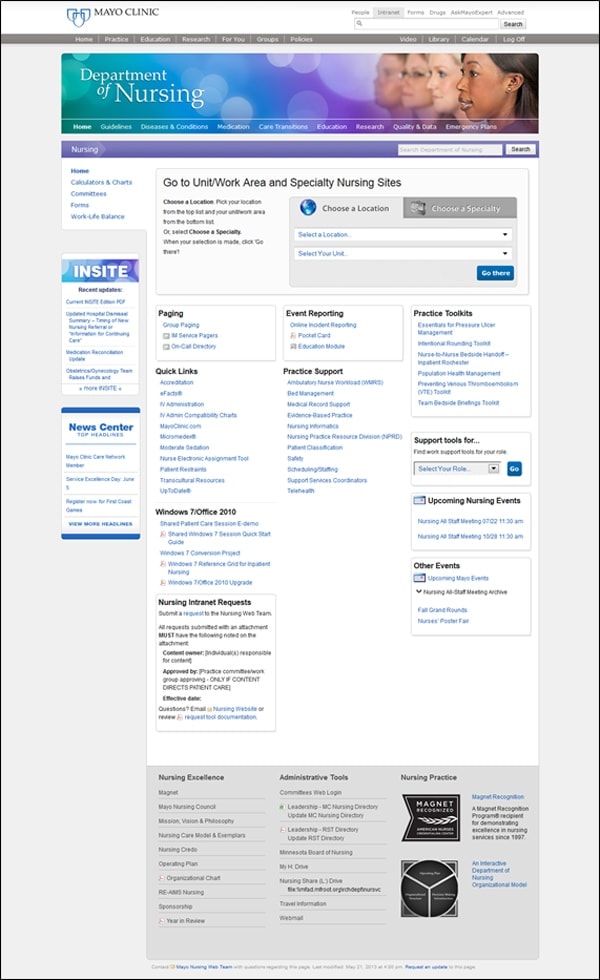 Above: The homepage of the Mayo Clinic's nursing intranet involved a huge research and design exercise touching many members of the user population. Screenshot courtesy of the Mayo Clinic.
For Gold Award winner Mayo Clinic's Nursing Department's new intranet, the design team went through a prolonged research phase to tease out the highly complex information needs of individual nursing staff. While the team used various classic design techniques such as card-sorting, the breadth of the research phase was also notable. Activities included an extensive user survey, endless observation sessions and hours of focused- workshops. There were also 50 formal presentations and 135 open drop-in sessions with users to get further feedback.
Involve users from each part of the organisation
Gold winner PwC Australia created a physical space in its office as an "Experience Lab" which was a hub for both design and engagement activity.  Users from each section of the business were brought to the lab for various co-creation activities including sketching sessions and weekly revision meetings. A vital link between the central project team and business divisions were selected Business Design Teams.  They helped to nominate users for design activity as well as champion the new intranet. This meant that change management and engagement activity was built in to the design phase.
Target specific efforts to engage users
In ASB's intranet, different handwriting from staff was used to write the intranet name "Connect" in the header for every section. Screenshot courtesy of ASB.
The Australian School of Business at the University of New South Wales made many efforts to engage users and stakeholders through the design process so that staff felt a sense of ownership. This included directly interacting with staff who the team felt might be apprehensive about the new intranet. Wider activities included a naming contest as well as using an image of different staff's handwriting of the intranet name "Connect" on the header for each individual intranet section.
Engage with early adopters
For the new global intranet for engineering firm Aurecon, user workshops were carried out across five different cities in three countries. The design was progressively tested with users as it worked through different iterations. Before launch the intranet was rolled out to a group of early adopters whose feedback was also used to make further refinements,. This move was important in creating super-users and advocates for the global roll-out.
Although these examples of how intranet teams interacted with users during the design phase all differ, it shows that it can be considered an engagement activity just as much it is about gathering and testing requirements.
Find out more
For more insights, the Intranet Innovation Awards annual report features 19 in-depth case studies and over 200 screenshots.  This is the must-have report for intranet teams to guide their planning and represents incredible value.
And of  course, if you also want to highlight the innovations on your own intranet, then the 2014 Intranet Innovation Awards opens for entries in April. You can sign up to be notified when it opens for business.
(This post was written by Steve Bynghall, who the Manager of the Intranet Innovation Awards.)