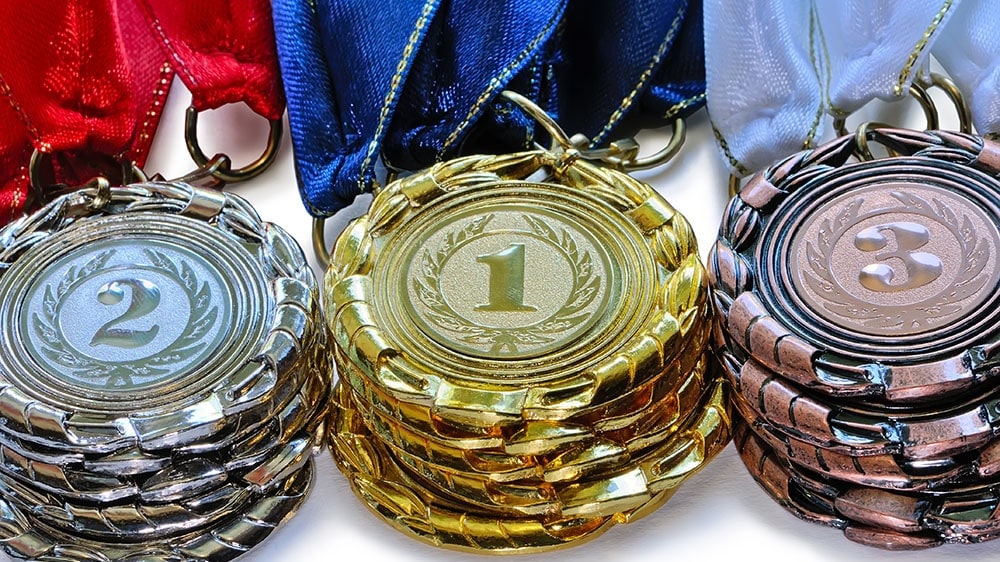 Our favourites from ten years of the Intranet and Digital Workplace Awards
Filed under: Intranet and digital workplace awards, Latest Features
We find it hard to believe that Step Two's Intranet and Digital Workplace Awards are now ten years old! When we started out as the Intranet Innovation Awards in 2007 we weren't quite sure where we'd end up, but here we are!
Reaching this landmark year, we thought we'd take the opportunity to look back at some of our favourite winning entries. Each of these examples is an intranet or digital workplace which stood out for us at the time, but has continued to be inspiring for teams today.
2007: Organisational change at Fiat
In the mid-noughties Italian automobile manufacturer Fiat had an economic and image crisis. The group's Platinum Award winning entry detailed how the intranet was used as the primary channel for a major cultural change program aimed at turning the organisation around.
The "Avanti e Veloci" section of the intranet supported the company's 1,000 managers in diffusing a new organisational culture and enabling business transformation. As well as information about the general change program, each manager had a personalized portal to develop their own leadership skills.  The result was an intranet supporting a stunning organisational turnaround as the company moved from loss to profit.
2008: Community Forums at British Airways
In 2008 British Airways won an Award for its "Crew Community Forums", a social environment where 17,000 flying crew could connect with each other. In a profession where employees are constantly moving and where colleagues may differ from flight to flight, the forums provided a key way for employees to keep in touch. The forums were used for social interaction, operational communication and innovation, enjoying very high levels of adoption.
The forums featured many of the core components of today's successful enterprise social platforms, including community managers, robust governance, a usage policy and even a live discussion with the Chief Executive.
2009: IDEO's beautiful and advanced intranet
The Tube, a winning entry from design consultancy IDEO, is an intranet with people firmly at the centre. Rich pages for each individual employee link dynamically to pages about location, projects, blogs and more. Project pages include details about members, background, progress and more. There is a very high adoption of both personal and group blogs. The design is clean, rich and includes extensive use of imagery.
In 2009 it was rare to find rich content, data, social tools, core intranet capability and design working so seamlessly together. We declared The Tube "one of the most advanced intranet examples the judges have seen".
Purchase the full IDEO case study.
2010: IMF's essential knowledge collection
The IMF's "About A Country" portal, a Gold award winner in 2010, is a masterclass in how to create an essential knowledge collection. Accessing knowledge about the economies of the countries of the world is essential for the IMF's activities. Previously this information was dispersed but About A Country brought it altogether.
The portal combines structured guides, updates, contacts, data visualisations and more into a user-friendly format. Thoughtful and well designed content management processes maintain the value and integrity of the collection as a single point of truth. It's a case study we've referred back to many times.
Purchase a copy of the full IMF case study.
2011: CRS Australia and just-in-time content
CRS Australia's "just-in-time" content solution is a very simple idea, but brilliantly executed. It links users to critical content related to tasks, just at the time they need it.
Through a combination of the clever use of metadata and the exploitation of an intranet already rich with integrated  applications, users are provided personalised links to relevant content at the point when a form is being completed. The killer twist is that the links are either to content which individuals have not visited before or has been significantly modified since the last visit. This was a worthy winner in 2011.
Purchase a copy of the full CRS Australia case study.
2012: Enter's imaginative use of gamification
Enter's winning submission from 2012 remains a thrilling example of the use of gamification to craft a unique, customer-focused, company culture in the face of this Russian retail start-up's rapid expansion.
Using a customised Jive platform employees are awarded points for various activities including online activity, peer and management recognition of different behaviours, offline knowledge sharing, referring of potential new hires and een going for lunch with a random colleague. Winners go on fun and "experience-based" activity holidays.
To some this might seem like extreme gamification, but the game was presented to would-be job candidates to help find those best suited to Enter's strong customer service ethic.
2013: The potential of mobile at Barclays
In our view Barclays' MyZone mobile intranet app for staff in retail branches of the bank remains one of the best iterations of mobile we've seen. With news, product information, key organisational information, a simple ideation tool, a sandbox to try out the latest consumer-facing apps and more, there is a wide breadth of essential content and features targeted at frontline staff.
The impact and benefits of MyZone were equally impressive with high adoption, employee engagement, cost reduction, better product knowledge and an uptick in customer use of apps. This was a well-deserved Platinum winner.
Purchase a copy of the full Barclays Bank case study.
2014: Telstra's personalised HR dashboard
Telstra's 2014 entry detailing a personalised HR dashboard is the Gold Award Winner that got away. At the time of submission it had only just been launched so the impact was too early to judge and it was only commended by the judges.
With hindsight we can now see just how great this dashboard is. There's a beautiful design, and a great focus on surfacing of key data from a variety of different systems. There is also ingenious attention to detail including the default blurring of sensitive pay data so the page can be accessed in an open plan office. We also now know the dashboard has been successful inside Telstra.
Purchase a copy of the full Telstra case study.
2015: Branded microsite template at GSK
One of our favourite winners from last year was GSK's microsite template. This ensured that hundreds of previously inconsistent and off-brand SharePoint sites in GSK's intranet ecosystem were now fully brand compliant and delivered a much better user experience.
Amazingly the team pulled this off with a self-service approach for site managers through an elegantly designed template and an ongoing program of virtual training. A simple PowerPoint tool helped site owners plan their new site. The GSK team showed that governance and change management can be executed with the right approach, saving millions in design cost avoidance.
Purchase a full copy of the GSK case study.
2016: Over to you!
We're still looking for our 2016 winners.  Perhaps it could be you!
If you have an intranet or part of your wider digital workplace which you're very proud of then consider entering the 2016 Awards. Winners get a lovely glass trophy and lots of recognition. It's completely free to enter and we're receiving entries right up to 10th June.  Perhaps you'll make our twentieth year retrospective!
In the meantime, if you want to browse through every entry of every year, obtain the Intranet Innovations Bundle.