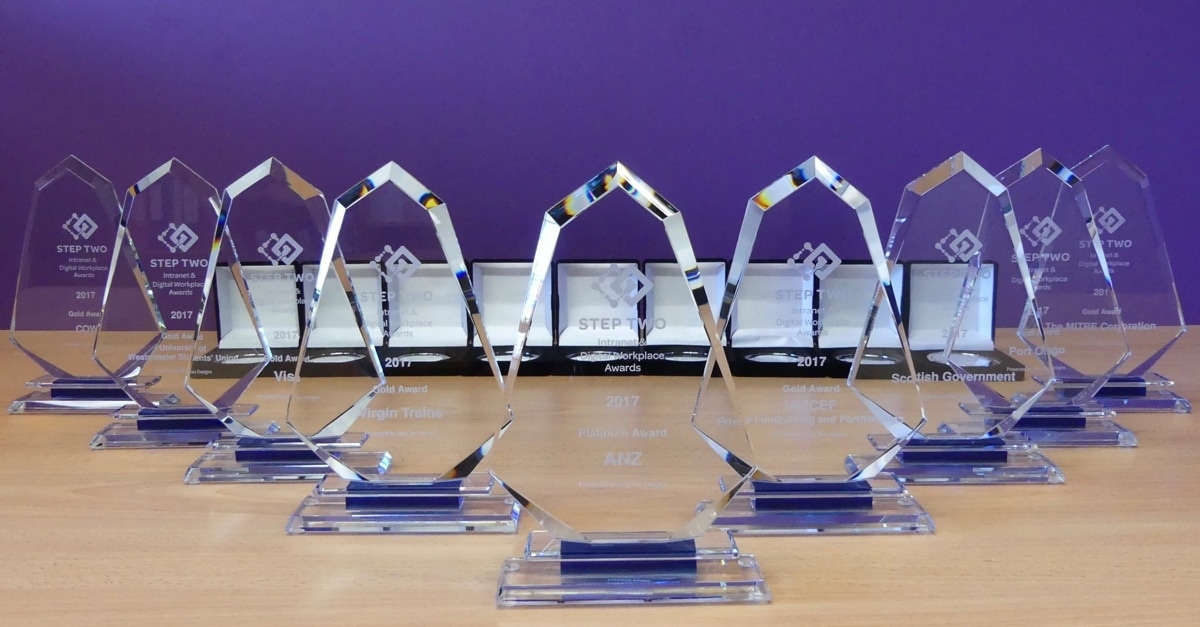 It's time to enter your great work into the 2021 Intranet & Digital Workplace Awards!
Filed under: Announcements, Intranet and digital workplace awards, Latest Features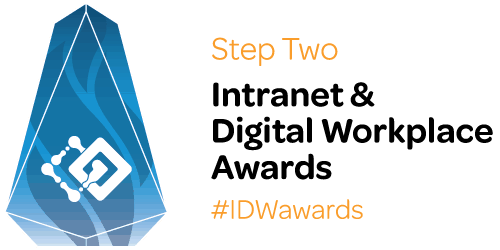 We're delighted to announce that the 2021 Intranet and Digital Workplace Awards are now open for entries!  We'll be accepting submissions right up to the closing date of Friday 26 March 2021.
The Intranet and Digital Workplace Awards are global awards that celebrate amazing intranet and digital workplaces and the talented teams behind them. Our aim is to find remarkable solutions which deliver major benefits through great ideas and execution. We then share these inspiring examples with the wider community.
Now in their 15th year, we have handed out  over 150 trophies and medals awarded over this time, to winners from 18 countries. Winners range from small non-profits and government agencies, to global firms and household names.
These Awards give teams the global recognition they deserve — as well as a lovely glass trophy to sit beside their desk.
Enter now!
The how to enter page contains full details, including a link to the online form to complete and the entry description form to upload.
This year there are six categories to enter:
Intranet essentials (including new intranets or rework, core intranet elements such as search or people directory)
Social, collaboration and communication (including initiatives which showcase social networking, collaboration and internal communications)
Business solutions, mobile and frontline (solutions or apps, either mobile or web-based, designed for a particular use or to  solve a problem, as well as initiatives that use mobile or are designed for frontline staff needs)
Microsoft 365 solutions and adoption (solutions and initiatives based on Microsoft 365 that have achieved excellent business results)
Digital employee experience & digital workplace (covering a wide range of initiatives that improve the working experience for staff, including mobility, business solutions, AI and beyond)
NEW! Mastering disruptive change (beyond merely surviving the disruption of Covid-19, some teams have gone above-and-beyond to deliver truly transformative change for employees, in 2020 and now into the new normal)
Don't forget, the closing date is Friday 26 March 2021.
Why enter?
If you've got a fantastic and original intranet, digital workplace or related initiative we want to hear from you!
Winning teams:
get recognition from within their organisation company and from peers outside
receive one of our legendary glass trophies
get feedback on their initiative
contribute to the collective knowledge of the wider intranet and digital workplace community
receive invites to conferences around the globe
When developing an intranet we are usually so busy that we rarely take the time to look back at the achievements or to celebrate the gains. The process of entering the awards helped us to reflect on what we had actually done and the powerful impact of the change. Actually winning the award made us realise we had something to be very proud of! This has brought renewed energy to the team, a positive reaction from users and extra attention from management.
- Cecilie Rask, Intranet Manager, Danish National Police
Why we're different
Step Two's Awards are different from some other intranet and digital workplace competitions because:
the 15 year history of our Awards gives winners huge kudos and recognition around the globe
we celebrate individual features and initiatives, not just whole sites and platforms
we are totally free to enter with no hidden costs such as trophies or charging for attending an Awards ceremony
we are vendor-neutral with a rigorous and transparent judging process involving an international panel of intranet and digital workplace experts and practitioners
Who should enter?
We welcome submissions from the organisations that own the intranets or digital workplaces, or the agencies and vendors who developed the solutions (as long as we have confirmation from the client in question).
Remember, your  entry doesn't have to be about the whole intranet or digital workplace.
We accept entries which relate to intranets, enterprise social networks, collaboration platforms, mobile apps, learning environments, HR platforms, standalone applications and other relevant channels.
Need help entering?
Our how to enter page has the full details about entering including a link to the submission form. It also includes examples of previous winners. In addition we have a frequently asked questions page.
If you need advice on whether your intranet or digital workplace is suitable for entry or need advice on your submission you can also get in touch with us directly.
We look forward to receiving your entries!