Deliver success with the "pathway to social"
Filed under: Conferences & presentations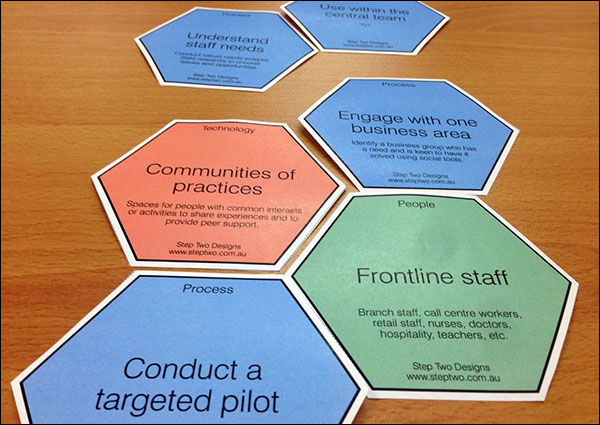 It's well understood that collaboration and social is much more than just technology. While the tools are now widely available and commonly deployed in organisations, there is still much to be done to ensure adoption, ongoing use and business value.
That's why wee included a full-day workshop on Successful social intranets as part of Intranets2014. This was run by James Robertson, author of many intranet books, and leading thinker in the digital workplace field.
While the workshop covered many useful topics, perhaps the most interesting aspect was the debut of the Pathway to social cards.
These hexagonal cards (shown above) support a planning activity for social and collaboration projects.
Incorporating all the key elements across people, process and technology, teams can choose whether they are planning a small-scale or enterprise-wide project. The tools and activities needed for project success are then assembled into a practical sequence.
This methodology is brand new, and all attendees were given a copy to take back to their offices. We expect this will transform the conversations being held within organisations around collaboration and social. Grounded in a clearer sense of what's really involved, we hope this will lead to an immediate increase in project success rates.