Book review: The Intranet Management Handbook
Filed under: Book & product reviews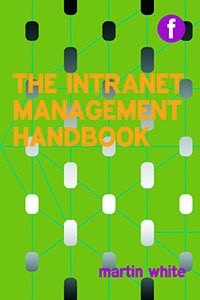 There are over a million intranets in the world according to Martin White, and I have no reason to doubt it. The field of intranet management is large and active, but surprisingly weak on professional resources. Considering that intranets have been in place for decades, it beggars the imagination that there can be only a handful of books on intranets, yet this is the case.
This makes The Intranet Management Handbook by Martin White particularly important. While other books have focused on a specific aspect of intranets, such as Designing intranets, this book takes an overarching look at what is involved in making intranets work.
The Handbook is divided into four main sections:
foundations
technology
operational planning
governance and strategy
Each of these sections walks through key concepts, drawing in rich resources from across the globe.
The greatest strength of this work is its breadth. Martin is equally comfortable talking about SharePoint implementation issues and records management; job descriptions and privacy laws; personas and risk management.
This is where Martin's extraordinary experience as an intranet expert really shines. There are few in the industry that can claim well over a decade of helping intranet teams succeed, and Martin draws on every bit of this expertise when writing this book.
For those new to intranets, this book is an invaluable roadmap for knowledge building and career development. Even experienced intranet managers will find valuable gems that will add to their repertoire. (Martin's six-point 'information charter' is one such example.)
The Intranet Management Handbook should be on every intranet manager's desk, and dipped into whenever fresh insight is required. Highly recommended.