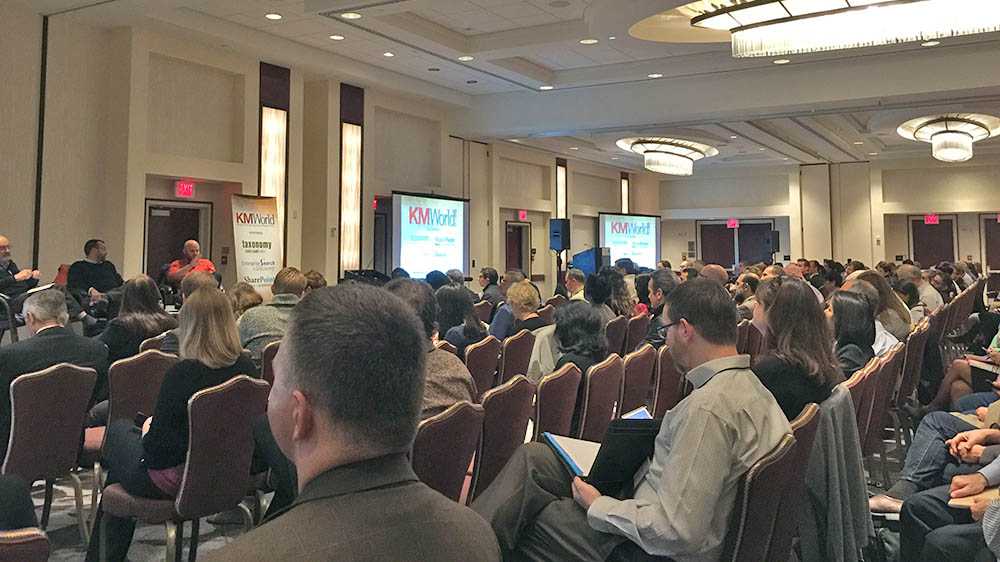 Agile, the digital workplace and an intranet showcase (KMWorld 2015, Washington DC)
Filed under: Intranet and digital workplace awards, Intranets
Yet again, Step Two took to the stage at KMWorld, held in Washington DC in November 2015. I gave two presentations, as well as handing over trophies to the US winners of the Intranet Innovation Awards, in front of the full conference audience.
I had many requests for the slides (including the screenshots!), so here they are. Enjoy!
Taking an agile approach to the digital workplace
Key points:
The digital workplace is the emerging result of the digital transformation that's rolling through organisations.
Agile development practices replace top-down "waterfall" approaches with the rapid, iterative release of new capabilities, learning from each and revising accordingly.
Coles, a large Australian supermarket, took a "walk, run, leap" methodology to delivering an Office365-based intranet to 100,000 staff in their stores.
Robin Partington & Partners, a small London-based architectural firm, evolved their digital workplace in lock-step with the growth of their business, delivering each new feature incrementally.
Telstra has created an entirely new design of the HR landing page, by taking a "design thinking" approach.
Use the intranet as a test bed for agile methodologies, delivering high-value incremental improvements.
True field research builds insight into how the business ticks, allowing technology projects to be repackaged as business solutions.
Build a strong design thinking capacity within the core intranet or digital workplace team, and use this as the 'force multiplier' when delivering solutions.
Intranet showcase: the 2015 Intranet Innovation Awards
For a summary of this year's winners, see the post: Intranet Innovations 2015: key themes from this year's awards.
If you're inspired by either of these presentations, don't forget to sign yourself up to be notified about next year's Intranet Innovation Awards, which open for entries in April 2016: