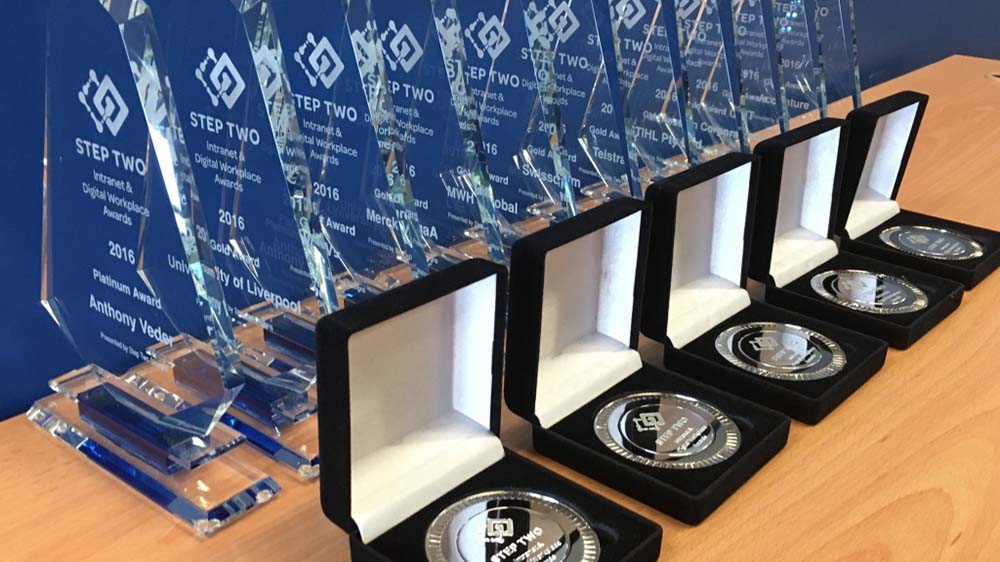 22 and a half reasons to enter the Intranet & Digital Workplace Awards
Filed under: Announcements, Intranet and digital workplace awards
There's just four weeks to enter the 2020 Intranet and Digital Workplace Awards, the annual global competition which closes on Wednesday March 11th (any timezone).  The entries are coming in and we've already got some great submissions.
Still considering whether to enter? Here's 22 (and a half) reasons to go and work on that submission now!
1. Winning an award is a great way to motivate your team and reflect on your own success. Even if you don't win, just documenting your efforts can showcase a great collective effort.
2. Similarly, winning can also help to engage your wider group of local site managers, publishers, communicators, technologists, champions and others across your organisation who make your intranet or digital workplace the success it is.
3. Our Awards recognise all types of organisations. Past winners range from global brands to small companies from across the world. One year even a high school won our overall Platinum Award!
4. Winning an Award is a great way  for you and your team to receive some much-needed internal recognition and get senior management to notice your contribution.
5. It's also nice to get some recognition from peers across the wider global intranet and digital workplace community (who are a very friendly and supportive group).
6. Let's be honest – winning an award does your CV no harm.
7. We are completely free to enter. There are no hidden costs for trophies either. Some competitions charge an administration fee – we don't!
8. Yes, there are other intranet contests too and you can (probably) use some of your entry in other contests too (after you've finished with ours, of course!).
9. Writing an entry is great for articulating successful approaches and reflecting on what you've done very well. Intranet teams are often in "operational mode" and get little time out from the "day to day" to reflect – an awards application process can help articulate your strategic thinking.
10. You can use your submission material too to promote your intranet internally or aspect of your digital workplace.
11. If you're our platinum winner or one of our gold winners you get a lovely glass trophy.
12. And if you're one of our silver winners you get a very nice silver medal for the trophy cabinet.
13. There's also a digital badge you can proudly pop somewhere on your intranet or digital workplace.
14. It will also be a great credential for your supplier, vendor, agency or consultancy. They do great work too!
15. It's an opportunity to get feedback about your entry. We try and give some brief individual feedback on all entries.
16. If you win, it is quite likely you will get approached to speak and showcase your work at conferences. We've known winners to speak at conferences in the UK , USA, Denmark, Australia and beyond.
17. We hold a fun (free) awards ceremony in Australia, UK (for Europe) and the USA. One year we had 10 European winners all presenting at the London session!
18. Winning entries provide information and inspiration for your fellow professionals in other organisations. You're contributing to the collective knowledge of the global intranet and digital workplace community
19. Winning creates bragging rights for your organisation.
20. There' s an opportunity to learn. Winners get a free copy of your annual showcase report featuring detailed case studies of all the winners while those who entered also qualify for a discount.
21. We have a robust judging process with an international panel of global digital workplace experts, representing both consultants and practitioners.
22. One of the great things about our Awards is that we don't just focus on the whole intranet or digital workplace. Your entry can focus on just one aspect or feature and our three categories capture most types of project, from digital workplaces to collaboration tools, HR portals and beyond.
22½ We didn't want to condone unhealthy choices, so we've downgraded this to only half a reason, but if you win it's a great excuse to eat cakes, go out for the evening  and celebrate!
There's still time to enter
If you start now, there is still time to enter. Visit our Awards information page, download the necessary form, and get working on your submission.
While the closing date is 11 March we are able to offer a small number of extensions of a few days with prior agreement with us.  If you have any questions or want to apply for an extension please get in touch.
We look forward to receiving your submission!