Best practices: enterprise mobility (2nd edition)
Since we released the first edition of this report a year ago, there has been tremendous innovation in the field of enterprise mobility.
Obtain the second edition of this report to explore ten leading case studies, and use the expert advice to deliver great mobile solutions for staff.
This is an exciting time for enterprise mobility.
Since we released our first report on mobile intranets last year, many more organisations are either planning or launching mobile projects. Responsive design is becoming more prevalent and BYOD is increasingly assumed.
Exceptional examples of mobile projects are now surfacing, allowing other teams to learn from the early adopters.
The need for enterprise mobility is great. Staff in the field need to be fully productive. Senior managers have iPads and want access to their emails and documents. Even office-based staff are expected to be productive, wherever and whenever they are.
This high-impact report provides expert advice and case studies on delivering a mobile enterprise. 140 pages in length, it features 10 full case studies, plus supporting advice.
With the pressure coming on many teams to deliver mobile solutions quickly, this report provides practical and must-have guidance.
Using this report
This report contains best practices and case studies that are written as bite-sized chunks that can be dipped into as needed. This allows the information to be used in many different ways:
See what others have done, by browsing the screenshots and case studies.
Work out where to start, ensuring that you can deliver benefits quickly.
Get inspiration for your project, uncovering new ideas or approaches that will increase the impact of your mobile deployment.
Avoid common pitfalls, by identifying risks and problems early, and planning the project around them.
Use as conversation starters, whether it's within the team, with stakeholders, or the IT department.
Use as evidence, showing your IT team or external implementation partner that it really can be done.
Featured organisations
This 140 page report shares insights from organisations around the globe. Case studies include:
Staff and student intranet at QUT
Targeted mobile intranet at UK Parliament
Delivering key content to mobile devices at Arup
Improving customer experiences at Tivoli
Creating a mobile-friendly intranet at the City of Malmö
Implementing responsive design at Stichting Nidos
Supporting on the road staff at Judge Group
Saving money by replacing paper at the Dutch Senate
Increasing productivity at Logan City Council
Driving innovation in enterprise mobility at Aviva
More information
order report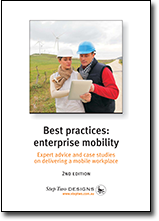 Best practices: enterprise mobility (PDF)
2nd edition
Expert advice and case studies on delivering a mobile workplace. Explore leading examples, and learn from the experiences of others.
Purchase now:
Online from Step Two (US$149)
Offline from Step Two (AU only)