Intranet Innovation Awards winners for 2007

BEST PRACTICE ARTICLE
Filed under: Articles, Intranet and digital workplace awards
It is always exciting and nerve-wracking to launch a brand new set of awards, and the Intranet Innovation Awards are certainly new. While there have been several excellent intranet-related awards in place for a number of years now, these awards focus not on the 'best intranets' but on the 'most innovative'.
The inaugural awards were opened for submissions in April 2007, with entries received from across the globe.
The awards celebrate new ideas and innovative approaches to the enhancement and delivery of intranets.
Uniquely, these awards recognise individual intranet improvements, and not intranets as a whole. The awards are about improving all intranets, by sharing great ideas and increasing the pace of innovation across the whole of the intranet community.
Every idea, no matter how small, adds to our understanding of what it means to have a successful intranet.
Gold Awards were given across four different categories, each focusing on a specific aspect of intranets:
core functionality
communication and collaboration
frontline delivery
business solutions
A Platinum Award winner was then chosen to recognise the most extraordinary entry for the year.
This article shares the results of the awards, including a screenshot and summary for each of the winners.
Award winners for 2007
Platinum award winner
"Avanti e Veloci web portal"
Fiat Group Automobiles (Italy)
Gold awards winners
"Staff Locator"
City of Casey (Australia)
"Persona pack"
Environment Agency (UK)
"Practice Area Communities"
Perkins Eastman (USA)
"Product collaboration"
Nycomed (Switzerland / Denmark)
"Away Today"
SunGard AvantGard (USA / New Zealand)
"Investigator Wizard"
QBE (Australia)
Commended entries
"Onomi: enterprise social bookmarking"
The Mitre Corporation (USA)
"eHabitat: learning and collaboration"
DSTA (Singapore)
"Intranet news via Blackberry"
Perkins Eastman (USA)
"Phone book privacy settings"
Caloundra City Council (Australia)
"Real-time status of staff"
Northland Regional Council (New Zealand)
"Live Search on intranet"
Lotterywest (Australia)
"Dashboard reports on home page"
Lotterywest (Australia)
We congratulate all the winners, and celebrate the diversity of the ideas and approaches. An overview has been provided for each entry in the following pages.
Full details on all the winning entries can be found in the Intranet Innovations bundle.
Avanti e Veloci web portal
Platinum award winner: Fiat Group Automobiles (Italy)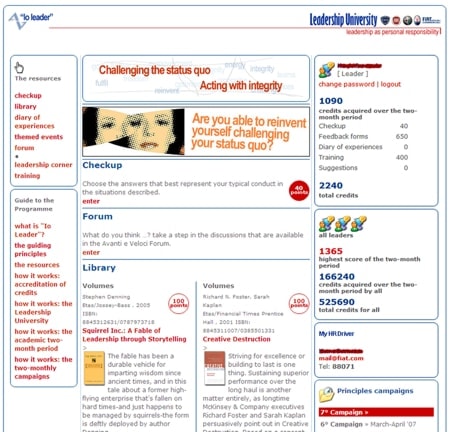 Fiat was facing an uncertain future, the result of an economic and image crisis which had deepened over past years. The challenge was to revitalize its brand and to re-establish a leadership position in Italy and Europe.
A major cultural change program was launched to establish a new leadership culture within the organisation, and to revitalise business practices.
The global program was named 'Fast and Forward' ('Avanti e Veloci'). The new task for the managers was to diffuse this cultural and functional change of business objectives as quickly as possible.
The diffusion of the new Leadership model was primarily delivered through a dedicated sub-portal of the company intranet, available to all the 1,000 key managers of the organization (in Italy and abroad).
The Avanti e Veloci web portal played a key role in supporting the program, helping to deliver tremendous organisational benefits to the group.
Benefits including helping to turn around a loss of 2 million euros a day to an operating profit level of 5 million euros per day. These numbers speak for themselves.
Staff Locator
Gold award winner – core functionality: City of Casey (Australia)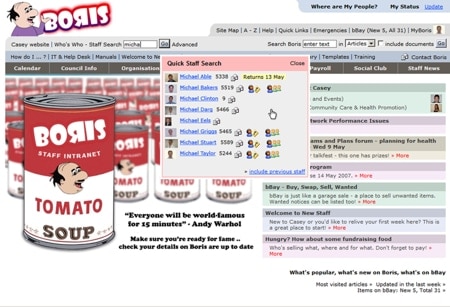 No matter what page of Boris you may be browsing, the cursor is always focused in the staff search form. Users do not have to click on the Staff Search form – they can just start typing a name.
Boris uses AJAX to bring back staff names as they type in the 'Quick Staff Search' window that instantly pops up. Within a flash, typing 'M-I-C' would bring back a list of all the Michelles, Michaels and so on. Continuing to type 'M-I-C-H-A' will refresh the list to only show Michaels.
The Quick Staff Search window shows a small photo, name, phone extension and email link as the search results. If any staff are on leave, their return to work date is listed. The leave dates will soon be automatically picked up from their soon to be launched HR web based kiosk. Presently, staff can click in their own leave dates through Boris.
Staff who have left the organisation can be listed by clicking the 'include previous staff' link in this window.
Clicking 'Find my location' shows a floorplan of their work building with a star denoting the location of their desk. If you were searching for someone who works on the same floor and building as you do, then the floorplan shows their location and your location, so you can determine where someone sits relative to you.
"This innovation is more about intangibles. It's about saving a few moments finding where someone sits. It's looking someone up in a few seconds. It's also about putting faces to names and making the organisation a friendlier place.

The best innovations are the ones you don't notice. This is one of those."

Michael Cleland, Website Coordinator
Persona pack
Gold award winner – communication & collaboration: Environment Agency (UK)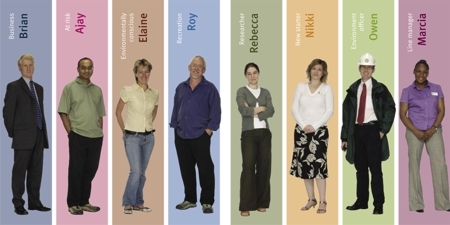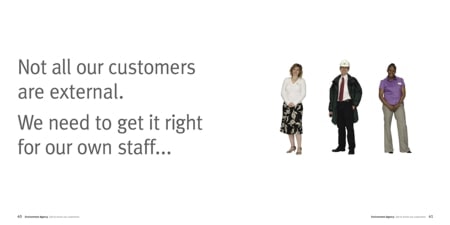 The intranet at the Environment Agency had grown organically, and like many such sites, lacked focus and coherence. In preparation for a major intranet redesign, a persona pack was developed to articulate the key audiences for the site. These personas were then used to communicate the purpose and direction of the intranet to authors and other key stakeholders.
Three intranet personas were created: Nikki – New Starter; Marcia – Manager and Owen – Enforcement Officer.
A short booklet was developed that presented tasks and goals from the persona perspective. The 'put yourself in your customers seat' tag was used throughout. This was backed up with strong visuals that showed the personas' work desks and described their key tasks and goals.
A set of summary cards was also produced, along with a mouse mat showing all personas.
Practice Area Communities
Gold award winner – communication & collaboration: Perkins Eastman (USA)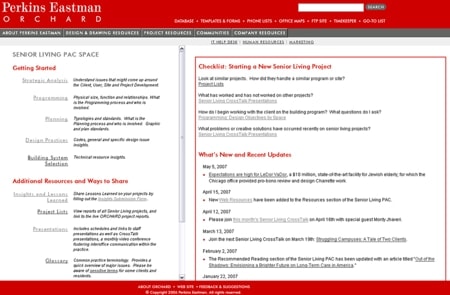 Perkins Eastman is a major architectural firm with a clear need to share knowledge between staff located in widely dispersed offices.
Practice Area Communities (PAC) were setup on the intranet to share staff expertise, and exchange both explicit and tacit knowledge. This in turn helps drive innovation across the organisation as a whole.
The purpose of each Practice Area Community (PAC) is to enable knowledge sharing between individuals; across project teams, studios, offices, and practice areas; and the entire international organization. The knowledge that is transferred at each of these levels enables Perkins Eastman to evolve into an industry leader.
The PACs are recognized by staff as a key source for information and knowledge. Each PAC is structured to serve as an ongoing educational and learning resource for all staff. The resources provided in each PAC are the sum of the collective wisdom of all staff that contribute and participate – strengthening the firm's knowledge systems.
Each PAC area is maintained by up to three "Gatekeepers" who have been recognized by the firm as industry and practice area experts with extensive experience and knowledge.
Each Gatekeeper is encouraged to share their knowledge, and to facilitate the sharing of knowledge by other staff. A Knowledge Resource Team (KRT) member serves as a liaison to the Gatekeeper group, and together they ensure each PAC section of ORCHARD (the intranet) undergoes continuous improvement.
The PACs provide a wealth of knowledge, both explicit knowledge that has been codified as well as tacit knowledge exchange in real-time. Providing staff with multiple formats for knowledge sharing and continuous learning, they are provided additional means to innovate and consistently deliver award-winning projects.
Product collaboration
Gold award winner – frontline delivery: Nycomed (Switzerland / Denmark)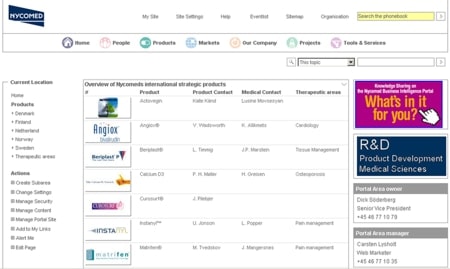 Products are clearly the core of any pharmaceutical company. When the business is global in scale, however, it can be almost impossible to bring together all the relevant product details in a single location, and to present them in a coordinated way.
The team from Nycomed did exactly that. Working closely with teams in research development and marketing, the intranet team was able to assemble a single, cohesive set of product documentation. While plain in design, this nonetheless represents a valuable innovation for organisations of this nature.
On the former intranet (Nycomedia), employees worked in department silos. Each part of the organisation worked on and with their own documents. This often results in duplication of content and no full overview of all available information. This generated considerable chaos across functions and from market to market, leading to no unified communication.
As the development of core documentation is pivotal for Nycomed's business, a new solution had to be found for the new intranet Nycomed Portal.
People are working in different countries and functions have to contribute data, text, feedback, comments and approvals. Often these documents are developed under time constraint and are very business sensitive (e.g. evaluations and marketing plans).
The goal for Product Collaboration was therefore to make sure that employees were working on the correct and most updated documents.
The existing work done on the intranet was reused, but a simple and common entry page was created. This provided a more useful and professional face to 'Products', and a united channel for frontline delivery.
Away Today
Gold award winner: SunGard AvantGard (USA / New Zealand)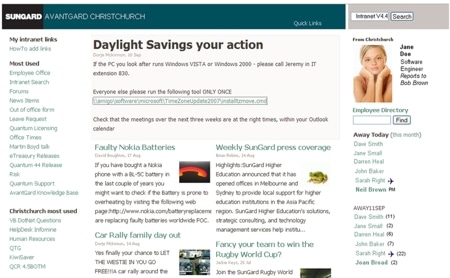 SunGard AvantGard is a financial services software vendor, with staff located in offices globally.
The home page of the intranet is enhanced through the delivery of' Away Today' and 'Away Tomorrow' functionality, showing staff who are not at their desks today or tomorrow. The reason for their absence is also listed, along with an indication of how long they will be away for.
Staff sitting 30ft or 1000km apart email questions to each other. If they get no response they email again. Then they try the phone and if they don't get hold of the person they will, if possible, walk to their desk to ask those around the area where the person is.
This is a significant consideration for a widely dispersed organisation such as SunGard AvantGard, and it impacts on the ability to communicate and coordinate.
This innovation also resolves problems for the managers of operational staff who are constantly on the road.
The Away Today and Away Tomorrow functionality makes use of existing intranet based systems which record leave and out of office dates and details.
This system is innovative in that it makes use of existing data and presents it in a way which makes it useful to staff every day.
Investigator Wizard
Gold award winner – business solutions: QBE (Australia)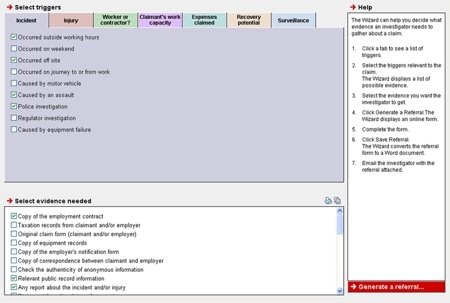 As part of the redevelopment of the Statutory Claims intranet site at QBE (a major insurer operating in Australia and globally), the "Investigator Wizard" was developed.
This helps claim managers to recognise fraudulent claims and to refer them for investigation. A simple online interface allows key 'triggers' to be identified, along with a list of evidence needed.
Online forms then capture details for an automatically generated referral letter, streamlining processes and increasing consistency.
The intranet was an ideal platform: already an excellent resource on fraud and investigation materials, not dependent on any other application (i.e. not buried in online help or a workflow application), and easily accessible any time to a case manager in any QBE branch across Australia.
The Investigator Wizard has raised the standard of referral letters to investigator firms markedly.
"Since the introduction of the Investigator Wizard the quality of instructions to investigators has significantly improved. Case managers are now correctly identifying claims that may benefit from an investigation. And, their referral letters now clearly specify issues. The Investigator Wizard lets a case manager focus on managing a claim rather than managing an investigation. And, feedback from investigators has been equally positive. Many agree that the improved quality of instructions gives them a better understanding of what is expected from them."

Geoff Bown, QBE Statutory Classes, Fraud Advisor
(For more information on the awards, obtain the Intranet Innovations bundle)