Winners announced for the 2009 Intranet Innovation Awards!
Filed under: Intranets
The day is finally here, and we're excited to announce the winners of the 2009 Intranet Innovation Awards! These are global awards that celebrate new ideas and innovative approaches to the enhancement and delivery of intranets.
Winning entries in 2009 include CRS Australia (Australia), IDEO (USA), IBM (USA), SunGard (USA/NZ), NYK Group (UK), Sabre (USA), COWI (Denmark), ChTPZ (Russia), Prophet (USA) and AEP (USA).
Every year it gets tougher to judge the winners, and the entries were particularly strong this time around. There is so much good stuff to share, and we'll be blogging details on one winner per day for the next week or two.
The full details on the award winners can be found in the Intranet Innovations bundle, which shares hundreds of screenshots and plenty of details. This is a remarkable resource for intranet teams, and there is something for every organisation.
(Note: for the first time, intranet teams in Australia and New Zealand can order a beautifully-bound printed book, and we've made it super-easy to order any of our products in Australian dollars.)
So, to the winners…
Platinum award winner
Workflow inbox and more
CRS Australia (Australia)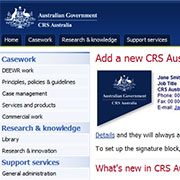 CRS Australia provides vocational rehabilitation services and assistance for people with disabilities, injuries or health conditions.
The CRS intranet, CRSNet, is a central channel for this dispersed organisation, and is tightly integrated with SAP. It provides detailed information and advanced functionality for staff and managers, wrapped within a seamless user experience. For CRS Australia employees, CRSNet is designed to be the single online operating environment.
Gold awards: core functionality
The Tube: people and project pages
IDEO (USA)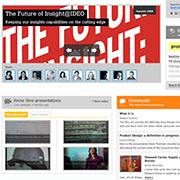 The Tube is IDEO's intranet, a stylised, innovative online space designed purely around IDEO employees.
Every employee has a personal page that's linked dynamically to their location, projects, project team members, skills, personal blogs and more. It's a perfect intranet, directory, skill finder, blogging platform and social network, all wrapped up into one, seamless user experience.
w3 Toolbar
IBM (USA)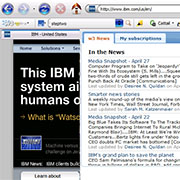 Several intranets, dozens of tools and difficulty in knowing which tool to use for which task — and where to find it.
This was a problem identified within a small business unit in IBM, where the sheer scale of the company's infrastructure and information systems meant employees needed a faster method to find their most commonly-used tools.
Cue the IBM w3 Toolbar, a multi-functional web browser tool, tasked with cutting through the mass of systems and content and integrating tools such as tagging and file sharing to make life much easier for employees.
Skills Matrix
SunGard (USA/NZ)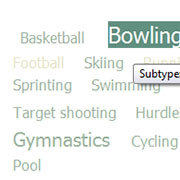 SunGard is a major provider for financial systems and applications.
With a major change in organisational structure came a comparable change in the way the skills were managed. The existing system, a spreadsheet, quickly became unusable, and grew to over 90 spreadsheet pages.
In response, the intranet team created the online Skills Matrix. Built with usability in mind, and what might be deemed a 'web 2.0 ethic' of user ratings, open sourcing the data and more, this is a benchmark example of a skill-finding application.
Gold awards: communication and collaboration
NYK News Room
NYK Group (UK)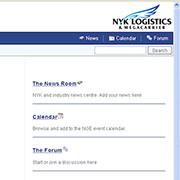 NYK Group's business is global shipping and it's and one of the world's leading transportation companies with over 770 shipping vessels.
The NYK News Room is wiki-based, and thus multi-faceted in its content, subscription options and viewing opportunities. It provides numerous improvements over the existing information service used by NYK, and is cheaper and has a far more extensive 'reach' to employees.
Sabre Town
Sabre (USA)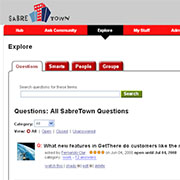 Sabre Holdings is one of the largest travel products and services providers in the world.
Sabre Town is Sabre's in-house-developed social network, which helped reconnect the organisation as it expanded globally, and began operating in almost 60 countries. Not only has Sabre Town saved the company money, with defined dollar savings, it's delivered intangible benefits with improved staff engagement, communication and conversation throughout the organisation.
Gold awards: frontline delivery
Business collaboration portal
COWI (Denmark)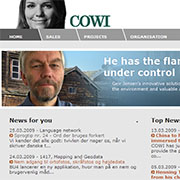 Faced with a lack of effective collaboration tools and inaccessible
shared drives when outside the organisation's network, COWI deployed a Microsoft SharePoint-based document management and collaboration solution, customising it heavily to ensure it met the exact needs of employees, and the requirements of COWI's own project methodology.
The result: powerful, embedded 'project sites' that connect employees across the world, and enable teams to adhere to long-held project processes and standards.
Mobile employee
ChTPZ (Russia)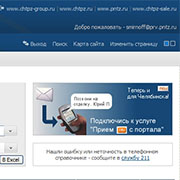 ChTPZ, a metallurgical firm in Russia, implemented the 'Mobile Employee' service to enable faster and more effective communication among employees in offices and out in the field.
It's a simple idea, just find the person you need in the directory, click within the directory to go to the Mobile Employee intranet page, type in your message and press 'send'.
Gold awards: business solutions
Online performance evaluation system
Prophet (USA)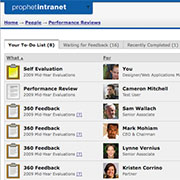 Prophet is a US-based global consultancy with a customer base of
Fortune 500 companies.
Prophet's online performance evaluation and appraisal system is a centralised dashboard system that takes an often cumbersome, time-consuming process and streamlines and automates it. The result? A super-fast, super-easy feedback system that's made life dramatically easier for all involved, whether requesting and gathering feedback, or ensuring all applicable staff members are contributing to the process.
Ideas Now
AEP (USA)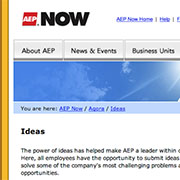 AEP is one of the largest electric utility companies in the United States.
The AEP intranet, 'AEP Now', is home to 'Now Ideas' — an online suggestion box and system where employees can offer ideas for business improvement, and fellow employees can rate the idea.
The result? Millions of dollars in potential cost savings, and so many good ideas that the project has been frozen while the best ideas are implemented. So, where's your ideas system?
Further information
Full details on all these winning entries can be found in the Intranet Innovations bundle, including high-resolution screenshots and examples.