William Amurgis joins the Intranet Innovation Awards judging panel
Categorised under: intranet innovation awards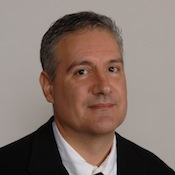 For 2010 we're very pleased to have a new judge on the panel for the Intranet Innovation Awards.
William Amurgis, Manger – Internal communications, at American Electric Power (AEP), is our first practitioner judge, and represents the USA on the panel. He'll join myself, Catherine Grenfell, Alex Manchester, Martin White and Jane McConnell as judges.
Last year, William's team at AEP won a Gold Intranet Innovation Award for their fantastic 'Now Ideas' system, which helped the organisation identify US $8 million in savings. In 2007, the team also won a Nielsen Norman award for their overall site, which is called 'AEP Now'. You can see a video interview discussing Now Ideas with William, and read more about the system in the Intranet Innovations 2009 report.
As a multi-award winner, William will bring a great additional perspective to the awards. Further information on all the judges can be found on the Judges page.