Pre-order your copy of Designing intranets: creating sites that work
Categorised under: Intranets, Usability & user-centered design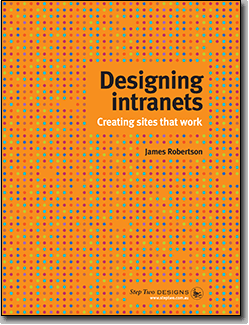 Followers of our blog posts and tweats would be aware that I've been working on our next book. Called Designing intranets: creating sites that work, this is the definitive textbook for teams tasked with designing a new intranet, or redesigning an existing site.
In 275 pages, this book walks through a practical user-centred approach to the design process, richly illustrating each step with full-colour screenshots from organisations across the globe.
This book complements What every intranet team should know, which covers the strategy and management of intranets. Together, they provide intranet teams with the best possible start to a successful intranet project.
The book is going into production, with an official release date of 15 September 2010.
Our Australian and New Zealand readers can now pre-order a copy (PDF), at a 10% discount on the final purchase price. We are also offering a book bundle at an even greater saving.
(International readers: watch this space!)
It's been a long journey to get the book finished, but I'm pleased with the results, and I'm glad to finally see the book go into production. Roll on mid-September!