Our new report: Best practices for SharePoint intranets
Categorised under: Intranets, SharePoint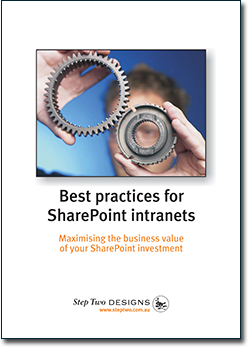 The vast majority of corporate intranets are now running on SharePoint, or are moving to it, and this is ushering in a new era for intranets.
While there has been enough written about SharePoint to fill a small library, most books and reports have targeted a technical audience, quickly deep-diving into implementation details.
Today we've released a new report, Best practices for SharePoint intranets, to address the needs of a business audience.
Written by the world's intranet experts, it provides answers and examples from organisations such as Coca-Cola Enterprises, BDO, Knight Frank, IMF, Standard Chartered Bank and many more.
This 130-page report shares 25 best practices that have been drawn from real-world experiences and projects. These covers seven overall categories:
lay the foundations
planning your project
design your intranet
collaboration
people and social
processes and activities
keeping up momentum
For each of the best practices, we provide practical advice, quotes from experts, project examples and real-world screenshots.
The purpose of this report is to surface what's already been done on SharePoint intranets, and to highlight best practices that will have the greatest impact on success.
SPECIAL OFFER: the report is available for the launch price of $99 until September 21. So read more about the report, and purchase your copy quickly.
Tags: design, governance, Intranets, SharePoint, strategy