Global launch of Designing intranets: creating sites that work
Categorised under: Intranets, James' articles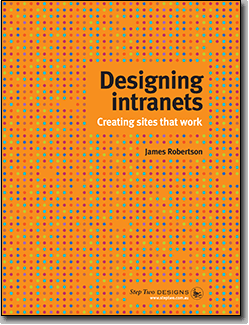 We've been working on this all year, so I'm pleased to be able to finally announce that Designing intranets: creating sites that work is now available for purchase globally.
With four times the content of our last book, What every intranet team should know, this is the definitive textbook for intranet teams planning to design or redesign their sites.
In 275 pages, this book walks through a practical user-centred approach to the design process, richly illustrating each step with full-colour screenshots from organisations across the globe.
We've already had some great feedback:
"I cannot recommend this book too highly, and it should be bought by every intranet manager. Even if you are not contemplating a re-design you probably will after reading the book." Martin White

"In his most recent book Designing intranets James Robertson promises nothing less than 'creating sites that work'. An over-promise? Not at all!" Lukas Karrer

"Highly recommended: even experienced intranet managers will find something new in this book." Sam Marshall
Read more and obtain your copy
Tags: book, design, Intranets, usability, user-centred design