Award winning mobile intranets
Categorised under: Intranets, Mobile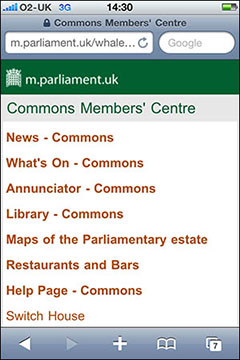 As mobile devices continue to transform our daily lives, there is increasing pressure for organisations to provide staff with mobile access and functionality. To date, there have been few examples to follow, making it hard to know what to deliver, and how.
The 2011 Intranet Innovation Awards uncovered many remarkable ideas and solutions, not least of them being three mobile solutions, from the private, public and educational sectors.
To share these case studies as widely as possible, we've published a brand-new Award winning mobile intranets report. This provides three real-world case studies:
UK Parliament delivering key functionality to MPs, who are rarely in their offices.
Queensland University of Technology providing staff and students with a mobile portal of remarkably simplicity.
Lafarge, a global corporation, supporting the yearly senior management retreat with a mobile site.
In addition to the three compelling examples, the report provides further insight from the team at Step Two Designs:
key themes from the winning case studies
what staff want on their mobiles
four types of enterprise mobility
elements of a mobile intranet strategy
If you are planning to deliver mobile enterprise functionality, this report will give you invaluable ideas and examples to help shape your plans and designs.
Tags: case studies, Intranets, mobile devices